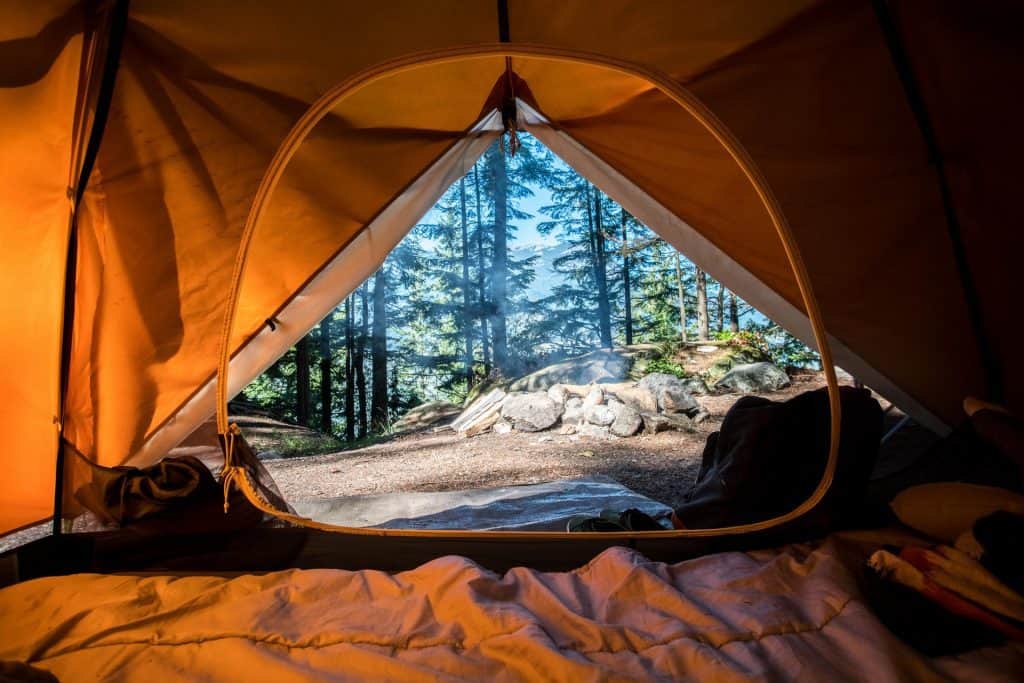 Are you like us when you go away for a few days camping? When we go on a camping trip, even for a few days, I pack everything AND the kitchen sink. My husband arrives at the campsite and transforms into a pack mule dragging everything out of the car to the tent pitch.
I am no longer guilty since I bought him the best camping trolley for last year's camps. These folding trolleys are perfect for lugging big loads, and folding camping trolleys are also great for off-ground storage.
Won't a beach trolley or festival wagon do the same job, you might be asking? They are fantastic for transporting loads, but we have found a foldable camping trolley with some unique features to make it function best on uneven, grassy and sometimes muddy campsites.
The best camping trolleys all have the following features:
Strong, thin wheels
Pull bar steering
Large, washable storage area
No canopy
Read our buyer's guide to camping trolleys below for more detailed information on what to consider when buying a camping trolley.
Just want the best camping trolley – here are our top five as tried and tested by us, and loads of great lifeisapicnic customers. (In-depth reviews are below)
Guide to buying the best camping trolley
To find the best camping trolley for your needs, consider where you will be using it, the loads you intend to carry and how often it will get used to making your best purchase.
As I always say, you get what you pay for when buying any picnic, walking or camping equipment. So don't be skimpy; learn what you need with our camping trolley buyers guide, do your research, and then shop confidently.
Where are you using the trolley?
Where you are using the trolley will impact the type of wheels you want on your trolley. For the beach, you want big chunky wheels to get over the sand; however, the best camping trolley will have thin wheels.
Thinner wheels mean it cuts through mud easier and is more responsive on uneven ground. Having the wheels turn 360 degrees can be helpful as ever. You only need a telescopic pull handle on camping trolleys to drag the loads to your pitch.
Camping trolleys are just large containers on wheels. No fancy bits on this trolley like a canopy, push bars or cup holders are needed. Heck, even brakes aren't a standard feature on these.
Storage Capacity
Tents, cool boxes, camping fridges etc., are all relatively large, so the more capacity in the trolley, the better. Camping equipment is also heavy, so you want the best camping trolley to take some serious weight.
Ensure the camping wagon doesn't have a canopy (or at least it's removable), restricting what you can put in the basket.
Maximum Load Capacity
The maximum load you can safely move in your camping truck will vary greatly, so buy the right truck for your required weight. Having a folding camping trolley that can take more weight will mean fewer journeys to the car…time is money and all that, so I guess to try and save it!
Weight & Portability
It's great getting a giant camping trolley to lug everything, but will it fit in your car, and could you lift it in and out easily? This is what I call the girlie rule of buying – always consider whether the ladies of the family can easily handle these trolleys. If not, think twice before buying it…look for smaller lighter weight models.
Some, like the Lifecarver Folding Camping Trolley, are smaller framed, lighter and still carry a considerable load. It's down to the durability of the camping cart.
Durability
These camping carts have many small moving parts and will be dragged and battered about on some rough terrain. The budget camping trolleys break Through some pretty heavy weights if used regularly.
So durability (strength of the parts it's made from) is an important fact to consider. Spend a little more money to get a better quality camping trolley, and look for rubberised wheels for grip and longevity.
You also want a removable storage trug so it can be cleaned. And get a handle with a decent grip…when dragging a trolley, you want to pull with all your might, so a padded handle helps.
Before we go into our in-depth reviews of our best beach trolleys, here are quick links to our other picnic essentials. If you have all these, you are sure of the perfect picnic!
Can you think of another essential picnic item I need to include? If so, drop me a line in the comments.
Pros
It takes less than 1 Min to set up.
The hard-wearing steel frame makes this sturdy over all terrains.
Large side pocket, cup holders and carry bag included in the truck
Comes with a 1-year warranty
Cons
Pros
Carries up to 100KG in weight on a trolley
Lightweight frame but very strong at joints
Quick & easy to fold down into compact storage cover
Solid rubber-covered wheels give traction over muddy grounds & rocky/grassy grounds.
Cons
Some customers complained it's no good on sand- but thin wheels aren't for sand. For that, go to the best Beach Trolleys
Pros
Carries the most weight of any camping cart reviewed
Packs up & down in less than 1 Min and comes with a carry case
The lid makes this a super extra storage solution on camping trips
The hardwood-covered base for extra strength
Breaks included for that extra security
Cons
Customers felt the pulling handle was too short
Pros
Sturdy hard bottom when carrying extra weight up to 100KG
Rubber bands are included to secure the items in the cart
Tire stopper (brakes for security)
Packs down micro slim in own carry case
Rubber-covered wheels are so quiet on roads
Cons
Some felt handle was short and hit them in the legs
Few customers felt the handle was flimsy – but you get what you pay for!
Pros
Made from RPET- Material so very eco-conscious
Holds 100KG easily with solid-based bottom
Tailgate comes down at the back to create a makeshift picnic table on the beach etc.!
Rubber-covered wheels for smooth, quiet towing.
The strong, hard-wearing frame of steel packs down small & light to put in the car
Cons
Some would say the price…but I am always a fan of choosing an eco option, for the cost to the planet is lower!
Frequently Asked Questions
Most frequent questions and answers
What other uses are there for a folding trolley?
These types of folding trolleys are awesome as:
GARDEN TROLLEYS
BEACH TROLLEYS
FESTIVAL TROLLEYS
DOG TROLLEYS FOR WALKIES
TALKING KIDS AROUND THEME PARKS ETC
These collapsible trolleys have many uses, from dragging out garden waste to bringing your musical instruments to gigs. Sky's the limit with these!
Where can I buy a camping trolley?
You can get camping trolleys from:
Amazon
Go Outdoors
Argos
Aldi
Lidl
These foldable trolleys will range from heavy-duty camping trolleys to lightweight carts. Another thing to bear in mind is the quality of the trolley, so to find the best camping trolley check out our buyer's guide above.
Have you used any of these camping trolleys? Then please leave your review in the comments box below. Is your favourite beach cart not on the list? Be sure to let me know in the comments below so I can review it.
Last update on 2023-12-03 / Affiliate links / Images from Amazon Product Advertising API
This product presentation was made with AAWP plugin.