Dip Your Toes into Our Reviews of Paddling Pools For Kids, Dogs & Families
When we are not escaping to the country for picnics, our family has created a beach retreat including
BBQ
and a giant rigid
paddling pool
. Traditional Paddling pools and
lazy spas
(Sorry, lay-z-spas) can be great places to play and chill as we have those long-awaited heatwaves. You might think the Lay Z Spa will be hot, but you can turn the water heater off for a bubbling plunge pool! Whether you need a baby paddling pool, a selection of fun inflatable kids paddling pools or even pet paddling pools we have you covered here.  We have deep pools and cold paddling pools, and budget friendly options. Children's Swimming pools have got bigger since the days I was a kid, they certainly robust pools.  And boy are they fancy now you can get heated paddling pool and swimming pool play areas now (think slip and slides we made as kids with plastic bags & the hose pìpe). Not got time to wade (hahah) through paddling pool reviews then here are our top paddling pool picks ready for you to buy today and chill out with asap!
Guide to buying the Best Paddling Pool
Paddling pools are a must-have for some at-home fun. However, to get the most out of your home pool, you want to keep it safe, buy a model that fits your needs, and learn about good old-fashioned maintenance. Here is a quick guide to buying the best kids swimming pool.
Safety
Whether you buy a small inflatable paddling pool or a framed paddling pool, keeping your children safe is the number one rule. Firstly, keep an eye on your kids at all times. It doesn't matter how old they are. A few inches of water is enough to be a potential safety hazard. Consider installing a barrier around your toddler pool. And always keep your baby in your arms, on your knees, or at arm's length when you play with them in the water. Also, always check the age guide when buying any swimming or paddling pool.  Underneath each of our in-depth reviews, we give you an age guide to help you buy the right pool for your family. Finally look for one with a built in sun shade if you can or  place the pool under a gazebo for plenty of shade.  UV sun rays can do more than give sunburn – they can cause skin cancer later in life with deadly consequences.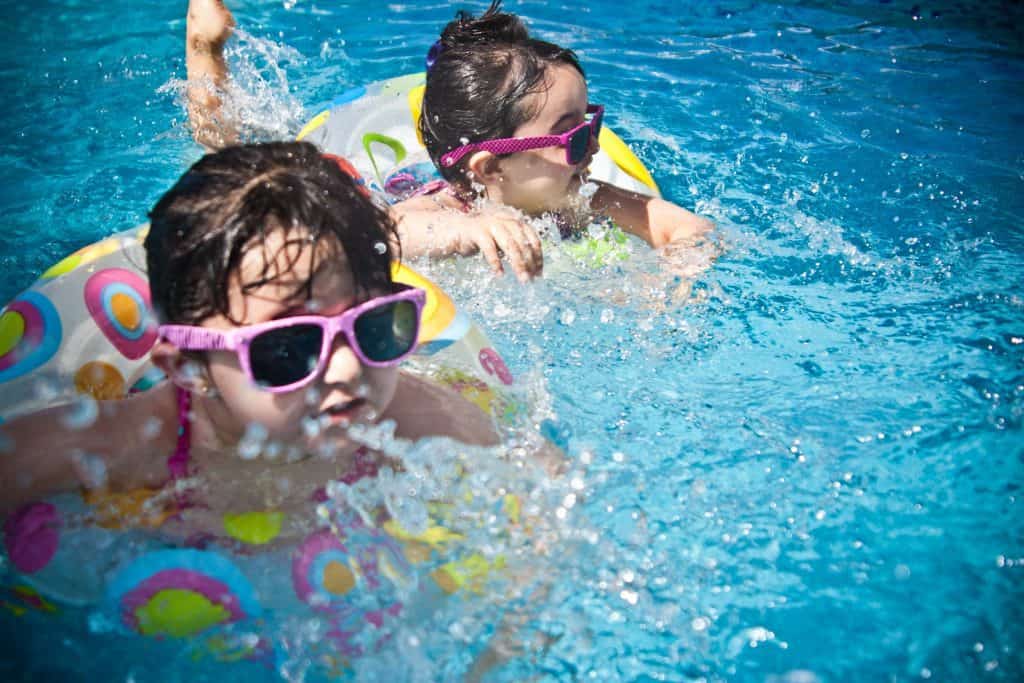 Size and Shape
Paddling pools come in various shapes and sizes. They can be circular, rectangular, oval, or even hexagonal. Depending on where you intend to place your pool, you should consider how much room you have in your garden and what shape would be most suitable for you. For instance, a circular pool is a good choice for a small garden or a patio, as it won't take up as much space. At the same time, a rectangular pool will be more suitable for larger gardens. Paddling pools are commonly made with polyvinyl chloride, vinyl, or PVC materials. Small paddling pools generally have three inflatable rings.  Larger pools sometimes only have one inflatable ring and take shape as you fill them with water. You can also buy a large rigid paddling pool with steel pillars. Those paddling pools are like waterproof sheets where you can insert steel pillars at the rim and along the walls. Once you fill it up with water, the sheet's surface becomes nice and smooth. But depending on your budget, consider opting for durable materials that don't tear or puncture easily.  As I always say at lifeisapicnic – you get what you pay for!
Maintenance
Depending on the type of paddling pool you go for, maintenance might be a bit different. But many of the time, small inflatable swimming pools or pop-up children's paddling pools don't have any filters as they don't require any chemicals to sanitise the water. That said, water gets grubby quickly. So, you should change it every day or every day for two days at least. Obviously, for larger swimming pools, that isn't an option. So you'll have to use a sanitiser/ water clarifier like chlorine or saltwater to eliminate bacteria, algae, and other pathogens. Our in-depth reviews state whether your paddling pool has a filter system, and if not, you can buy them as an extra.
Heated VS Non-Heated Paddling Pools
Paddling pools are a great way to enjoy the summer months. But, if we're being honest here, our English summers aren't the hottest. And the water's probably a lot colder than we'd like it to be (the temperature of your pool will be, on average, your night time temp!). Luckily, you can easily heat your pool at a low cost. Our favourite way is with a 
solar heating mat
 easily placed underneath your pool. And some frigid paddling pools with pumps have a solar-heated cover. However, you can also buy an 
electric paddling pool heater 
easily placed by your swimming pool.  These are more costly outlay but can be a very effective way to get a warm paddling pool.
Types of paddling pools
The great thing about paddling pools is that they are easy to assemble, light, and practical. That said, many different types suit each person's needs. From three-ringed inflatable toddler paddling pools for small kids to a 10ft paddling pool, you've got various models to choose from. For instance, if you're looking to buy a paddling pool for your toddler, a small pool with 7 inches of water or less is perfect. A sandpit pool is also great for kids between 4 and 7 years old to have their friends over for the afternoon. Just remember to consider the size of your garden, what surface you'll be placing the pool on, and how you plan on storing it during the winter months before you make your purchase. But now it's time to dive in, and let's look at our 12 best paddling pools for kids and families.
Sale
Pros
Easy-to-follow instructions
Good quality for the price
Sturdy and long-lasting
Cons
Joints might need to be tightened now and then
A bit difficult to drain
Need two people to build
NEED TO KNOW:
The available sizes for this paddling pool are 2,20 x 1,5 x 0,60 metres (86.8 x 59 x 23.6 inches) and 3 x 2 x 0.75 metres (118.1 x 78.7 x 29.5 inches).
And it can hold up to 3834 Litres of water.
This swimming pool is quite deep, so make sure children are under supervision at all times.
Intex 10Ft X 30In Prism Frame Pool Black 26700NP
OVERALL BEST 10FT PADDLING POOL - Customers describe this Intex 10Ft X 30In Prism Frame Swimming Pool as being a great bargain. This easily assembled amazon paddling pool is best done with two people, according to users. And it only took one customer 3 hours to fill up. Overall, users say it's great quality and very durable.
Pros
Easy to assemble
Good quality
Very good for the money
Cons
Doesn't come with a filter
Colour fades easily when sanitised with chlorine
Doesn't come with a ladder
NEED TO KNOW: 
This swimming pool measures 305 x 305 x 76cm (120 x 120 x 29.9 inches) and holds up to 4, 485 Litres of water.
This paddling pool is suitable for children 6+.
Pros
Very easy to inflate
Good quality plastic
Big enough for a family of 4
Cons
Takes time to fill up
Needs to be inflated regularly
Requires an electric pomp
NEED TO KNOW:
This paddling pool measures 250 x 180 x 55cm (98.4 x 70.8 x 21.6 inches) and can hold up to 153 gallons/579 Litres of water.
This swimming pool is suitable for children of 4+.
Chad Valley Pink Sand and Water Pit- 111 Litre in each pool
OVERALL BEST SHELL PADDLING POOL - If you want your toddler to have a little pool to splash in this summer, this Chad Valley Sand and Water Pit is a perfect purchase for you. Kids love playing in this shell paddling pool, and users say the quality is really good for the price. Customers also appreciate being able to convert this toddler paddling pool into a sandpit so that their baby can use it throughout the year!
Pros
Very good quality
Can be converted into a sandpit
Perfect for toddlers over 2 years of age
Cons
Doesn't come with a cover, so you need to empty the pool and place as a lid over the sandpit
Only comes in one colour
NEED TO KNOW:
This toddler paddling pool measures 23.5 x 106 x 92cm (9.25 x 41.7 x 36.2 inches) and can hold up to 111 Litres of water.
It is suitable for children of 2+.
Intex Candy Zone Play Centre 57149NP
OVERALL BEST TODDLER PADDLING POOL - This colourful paddling pool is great fun for kids between 3 and 6 years old. With inflatable lollipops and a water jet above the slide, customers say this Intex Candy Zone Play Centre is of great quality.
Pros
Great quality
Comes with balls and inflatable loops
Sprinklers just above the slide
Cons
Too big to inflate without an electric pump
Some users say it's smaller than the picture
Needs to be inflated regularly
NEED TO KNOW:
This paddling pool measures 47.6 x 15.2 x 40.6cm (18.7 x 5.98 x 15.9 inches) and can hold from 168 Litres to 206 Litres of water.
Suitable for children between 3 and 6 years old.
Pros
No inflating required
Can be converted into a ball pit
Keeps toddlers entertained for hours
Cons
Not as sturdy as some customers thought
Not as easy to put down
NEED TO KNOW:
This baby paddling pool measures 95cm x 77cm (37.4 x 30.3 inches), and the portable bag measures 37,5cm x 33,5cm.
Suitable for children 2+.
Order the ball pit balls here.
Pros
Great quality
Lightweight
Durable
Cons
Requires a 480W or 680W blower
Doesn't come with a blower to inflate it
Needs to be secured so doesn't blow away!
NEED TO KNOW:
This kid paddling pool measures 400cm x 360cm x 270cm (157.4 x 141.7 x 106.2 inches) and can take up to 3 children at a time (159kg).
Suitable for children between 3 and 10 years old.
Order the ball pit balls here.
Order 480W Air Blower here.
Sale
Bestway BW56416 Swimming Pool with Filter Pump, Steel Pro Max, 30 Inch Deep, 12 ft
OVERALL BEST ROUND PADDLING POOL- Customers were delighted with this Bestway Swimming Pool. Not only does it come with a filter pump, but users say this rigid paddling pool is very easy to put together. Many customers say they were able to assemble this swimming pool with only two people. And although it can take up to 9 hours to fill up, it's very sturdy and spacious for the price.
Pros
Users say it's the perfect size and depth
Users say you can fit quite a few inflatables inside
Very easy to assemble
Cons
On the pricey side
Requires sanitiser
Can take up to 9 hours to fill up
NEED TO KNOW:
This frigid paddling pool measures 3.66 m x 76 cm (12 ft x 30 inches) and can hold up to 6,473 Litres of water.
Suitable for children 3+.
Buy your paddling pool sanitiser items here.
Pros
Easy to assemble
Good quality
Holds its shape very well
Cons
Some users felt it was too small
The drain plug doesn't drain all the way
Doesn't stand on its own without water inside
NEED TO KNOW:
This dog's paddling pool comes in 4 sizes and 4 colours (black, blue, grey, and red). The larger model measures 160 x 160 x 30 cm (62.9 x 62.9 x 11.8 inches) and takes dogs up to 60kg (132 lbs).
Bestway Family Pool, rectangular pool for children, easy to assemble, blue, 262 x 175 x 51 cm
OVERALL BEST BUDGET PADDLING POOL - Take a break from the week with this Bestway Family Pool. With a little built-in cushion and drink holders, this cheap paddling pool is perfect for a hot spell. Users were very happy with the price, and they say they couldn't get their children out of it! You do need an electric pump with this rectangular paddling pool, and customers say it takes a while to drain.
Pros
Very quickly inflated
Built-in pillow and drink holders
Very well made
Cons
Smaller than featured sizes
Requires electric pump
Can take a while to drain
NEED TO KNOW:
This rectangular paddling pool comes in 3 sizes. The medium-sized model measures 175 x 51 x 262 cm (68.8 x 20 x 103.1 inches) and can take up to 982 Litres of water.
Suitable for children 36 months +.
Sale
Intex 57190NP Swim Center Family Lounge Pool, 229 x 218 x 76 cm
OVERALL BEST PADDLING POOL WITH SEATS - If you've been looking for paddling pools with seats, this very comfortable plastic paddling pool will adorn your patio in the best way. Users say this paddling pool is soft and cushiony, and the fabric keeps the heat trapped for a long time. According to customers, it only takes half an hour to inflate. So no need to wait around to enjoy your swimming pool!
Pros
Quickly inflatable
Very spacious
Great for cooling down in hot weather
Cons
Some customers found it hard to replace the valve after filling it up with air
A drain plug is located underneath the pool
Needs to be inflated every four to five days
NEED TO KNOW: 
This small paddling pool measures 15.3 x 45.8 x 40.3 cm (6 x 18 x 15.8 inches) and weighs 7 kg (15 lbs).
Suitable for children 3+.
Sale
Pros
Easy to assemble
It takes under 4 hours to fill up
Holds its shape
Cons
The ring needs to be inflated now and then
Requires sanitiser
Requires electric pomp
NEED TO KNOW:
This swimming pool measures 2.44 x 2.44 x 0.66 metres (6.19 x 6.19 x 1.67 inches) and can hold up to 2,100 Litres of water.
Suitable for toddlers and children as long as they are supervised at all times.
Other Paddling Pool Essentials
Here are some extra bits you'll want to have with your pool. From paddling pool heaters to the best outdoor toys, we've got great recommendations for you below:
Pool covers are essential to keeping leaves, bugs and other creatures away from your pool. Not to mention it's a lot safer to have if you have kids around. This
QiuQiu Solar Pool Cover for Frame Pools, Rectangular Swim Pool Cover
is perfect for the
Intex Metal Frame Rectangular Pool
. It's easy to put on and remove, and the little ropes at the end enable you to stabilise it. For the
Bestway Swimming Pool
, this
Bestway BW58037 12 feet pool cover
is a great option. It traps the heat from a hot summer's day, and according to users, it's a perfect fit.
To keep your pool warm at all times, this
Intex Eco-Friendly Solar Heating Mat
is a perfect choice. You can place it under small to medium-sized paddling pools. And according to users, it keeps their swimming pool warm without breaking the bank. This
Intex 28684 Electric Above Ground Pool Heater
is also very practical. Customers were so happy to be able to keep their pool warm in English weather.
To keep your water clean and usable at all times, this
Bestway Flowclear 330gal Filter Pump Swimming Pool
is perfect for the job. Customers say it's powerful and works very well.
To get the most out of your paddling pool pump, you have to change your filter regularly. These
Housmile Pool filter replacements
were well received by users, customers say they are very cheap and of great quality. Another good alternative is this
Flowclear™ Type II Filter Cartridge
. Customers say their water has been crystal clear ever since!
Pool toys are so much fun, aren't they? And to have the best family time, I strongly recommend this
Auney Water Toy for Kids
. My kids absolutely loved thes fun colourful water pistols. It's easy for them to refill and use, and they were running around all day with them. Another great toy is this
Intex 58504NP Floating Hoop Game
. Place it in the pool and throw the inflatable basketball into the hoop! It's great for small children too.
Keeping the best for last, these
Intex Inflatable Slide and 2 Sprays
are so much fun. They are on the pricey side, but users say they are of great quality and kids love it. If you'd rather not spend as much on an inflatable slide, this
Swimming Pool Inflatable Waterslide
is also a great pick. It's easy to climb because of its wide steps, and small children will be thrilled with this addition to your paddling pool. We hope you enjoyed the in-depth reviews of our best paddling pools and found the right swimming pool for your garden. Here are quick links to our other summer fun essentials on the site.  If you have all these, you are sure of a picnic or party with the family!
Can you think of another essential picnic and summer fun item I must include? If so, drop me a line in the comments.
Frequently Asked Questions About Paddling Pools
How to clean a paddling pool ?
If you have a small paddling pool, my advice is to clean your pool every day or every two days at the least. To do this, you must empty it, scrub it with a clean sponge and a bit of antibacterial soap, rinse thoroughly, and let it dry out. If emptying the water isn't an option because of the size of your pool, consider using sanitiser products regularly, such as chlorine or saltwater. And depending on the type of paddling pool you buy, cleaning it regularly can mean it can last up to five years or more!
How to empty a paddling pool?
The easiest way to empty your paddling pool is to use a garden hose. To do this, submerge one end of the hose in the water, preferably in the pool's centre. Put the other end of the hose in an area where the water will empty, making sure it is below water level, and give a quick suck on the hose to pull water through. Then let gravity do the job and wait for your swimming pool to drain.
How warm should a paddling pool be for a baby?
If your baby is under 13 weeks old, the water shouldn't be any less than 32 degrees.
What's the best paddling pool to buy?
My favourite paddling pool is this Intex Metal Frame Rectangular Pool for the entire family to enjoy. This one's great for the older kids to enjoy with their parents. And I'm happily floating on my doughnut all afternoon. For smaller inflatable paddling pools, a great option is this
Intex Candy Zone Play Centre
. It's such a fun paddling pool for very small children, and my babies can't get enough of it.
Have you used any of these paddling pools or swimming pools? Then please leave your review in the comments box below. Is your favourite beach cart not on the list? Be sure to let me know in the comments below so I can review it.
Latest posts by Alexandra
(see all)
Last update on 2023-12-03 / Affiliate links / Images from Amazon Product Advertising API
This product presentation was made with AAWP plugin.