Discover the Ultimate Outdoor Cooking Experience with a Dual Fuel Gas & Coals Barbeque
Let us help you friend the best dual-fuel BBQs. Suppose you adore the authentic taste and aroma of cooking on a charcoal BBQ but also appreciate the convenience and easily controlled heat of cooking with gas. In that case, a dual-fuel barbeque is a perfect solution for you. These versatile grills, sometimes called hybrid BBQs, allow you to enjoy the best of both worlds, making them ideal for year-round cooking.
Whether you prefer traditional charcoal grilling on sunny days or the quick and easy gas option when the weather turns wet, a dual-fuel hybrid barbecue has you covered. With two distinct types of hybrid grills available – charcoal/gas BBQs and infrared/gas BBQs – we'll explore the pros and cons of each later on, helping you make an informed decision.
With a dual-fuel BBQ, you can consistently achieve perfectly cooked, smoky BBQ flavours without worrying about unpredictable weather conditions. The top benefits of a hybrid BBQ (dual fuel BBQ) include:
Easy to light – Use the gas burners to ignite the coals, then turn them off once the charcoal is lit, ensuring a fuss-free start to your grilling session.
Versatility – Dual fuel BBQs allow you to choose between charcoal and gas for different dishes. Grill steaks over charcoal for that classic smoky flavour of charcoal, switch to gas, close the lid, and roast a chicken to perfection using a slow cooking method. The best hybrid BBQs let you cook using both ways simultaneously and have an additional side burner.
Year-round cooking – When the weather is pleasant, fire up the charcoal. If it's raining, ignite the gas grill, close the lid, and cook indirectly, enjoying delicious BBQ meals regardless of the weather.
Dual fuel cookers are the ultimate choice for ease of cooking and the ability to capture that irresistible smoky BBQ charcoal taste when desired. Below are our recommendations for the best dual-fuel BBQs to consider, ensuring you can experience the finest outdoor cooking.
Sale
Char-Broil 140924 Gas2Coal 210 Hybrid Grill Gas...
Gas2Coal Patented Charcoal Tray - ensures less flare-ups and unform heat for cooked, tastely food
Stainless Steel Burners - strong, durable burners that are built to last
Electronic Igniter - lights up your grill at the push of a button
Sale
Char-Broil Gas2Coal 440 - Barbecue a gas, colore:...
Gas2Coal - Patented charcoal tray, guarantees less flare-up and unform heat for cooked and tasty foods
Stainless steel burners: strong and durable burners, built to last
Electronic igniter: illuminate the grill by pressing a button
Sale
Char-Broil Gas2Coal Hybrid Grill - 3 Burner Gas &...
Patented Charcoal Tray - ensures less flare-ups and unform heat for cooked, tastely food.
Stainless Steel Burners - strong, durable burners that are built to last.
Electronic Igniter - lights up your grill at the push of a button.
Uniflame Classic Gas and Charcoal Combination...
A grill perfect for food, fun, family and friends. The UniFlame Classic 3-Burner Gas / Charcoal Grill is a great choice whether preparing and feeding a couple or a crowd you will find the space, power and control you need for success. Including a 3 burner gas grill and separate charcoal grill, this grill features 3,570 cm² of primary cooking area that is made of porcelain-coated cooking grates and an additional 1,200 cm² of warming area that is made of chrome-plated steel.
Each of the three 2,357 kW burners for a total of 7,07 kW light up with integrated ignition providing you the power and control over the BBQ. The charcoal grill features a height adjustable charcoal grate, front opening charcoal door and removable ash tray.
Sale
Ninja Woodfire Electric BBQ Grill & Smoker, 7-in-1...
DISCOVER A NEW WAY TO COOK OUTDOORS: All-in-one electric BBQ grill, smoker and air fryer with authentic smoky flavours.
7 OUTDOOR COOKING FUNCTIONS: Grill, Smoke, Air Fry, Roast, Bake, Reheat, Dehydrate. Fits 8 burgers, 16 sausages or 2 racks of ribs.
CosmoGrill Barbecue DUO Gas Grill + Charcoal...
The CosmoGrill Outdoor Duo provides the best of both worlds, combining gas and charcoal to form the ultimate barbecue. Constructed of a powered steel body and featuring two generously sized grilling areas extending over 80cm combined, the cooking techniques are endless with grilling, smoking or both at any time. The barbecue is perfect for entertaining up to 20 people with a banquet of sausages, burgers, wings, pork chops, corn on the cob and plenty more.
GAS GRILL: Three steel burners and a side burner with power totalling 9 kW, that can be ignited and adjusted individually to provide better control over grilling. The side burner can be used to perfect sauces and cook vegetables enabling you to create several meals in one go. Grill temperature reaches up to 280℃ and so it's great if you want to get adventurous with cooking new meats. Removable grease tray for easy clean up. Also included is a propane gas 37 mbar regulator and hose!
Buyer's Guide to Choosing the Perfect Hybrid Dual Fuel BBQ
Types of Dual Fuel BBQs – First, understand the two main hybrid grills available: charcoal/gas BBQs and infrared/gas BBQs. Charcoal/gas BBQs feature separate cooking zones for charcoal and gas grilling, while infrared/gas BBQs use infrared technology to provide even heat distribution and faster cooking times. Consider your cooking preferences and research the pros and cons of each type to determine which best suits your needs.
Size and Cooking Space – Consider the size of your outdoor space and how many people you typically cook for. If you have a large patio and often entertain, you may opt for a larger outdoor grill with multiple burners and ample cooking space. A more compact dual-fuel BBQ may suit smaller spaces or fewer guests. Also, look for a warming rack to get extra space.
Build Quality and Materials – The durability of your dual-fuel BBQ is essential. Look for grills made from high-quality materials like stainless steel or cast iron, designed to withstand the elements and resist rust. Additionally, ensure that the grill has sturdy construction and well-built components, such as heavy-duty grates and reliable ignition systems.
Temperature Control and Heat Distribution – A good dual-fuel BBQ should offer precise temperature control and even heat distribution. Look for grills with adjustable air vents and dampers for the charcoal side and individual burner controls for the gas side. Infrared/gas BBQs are known for their even heat distribution, which can be especially helpful for consistent cooking results.
Additional Features and Accessories – Consider any extra features or accessories that enhance your grilling experience. Some dual-fuel BBQs come with side burners, rotisserie attachments, built-in thermometers, or storage space for utensils and spices. While these extras can be convenient, they may also increase the price, so prioritize the features that are most important to you.
Price and Warranty – Hybrid dual-fuel BBQs are available at various price points, so it's essential to establish a budget before shopping. Remember that the cheapest option may not always be the best value in the long run, as it may lack durability or essential features. Additionally, look for grills with a solid warranty, which can provide peace of mind and protect your investment.
Reviews and Recommendations – Finally, read reviews from other users and consult expert recommendations to help you make an informed decision. Look for testimonials that mention the BBQ's performance, ease of use, and durability. Remember that even the best hybrid dual-fuel BBQ may have negative reviews, but pay attention to recurring issues or complaints.
Pros & Cons of Gas Charcoal Combo Grills
Pros of buying a Gas/Charcoal Hybrid Grill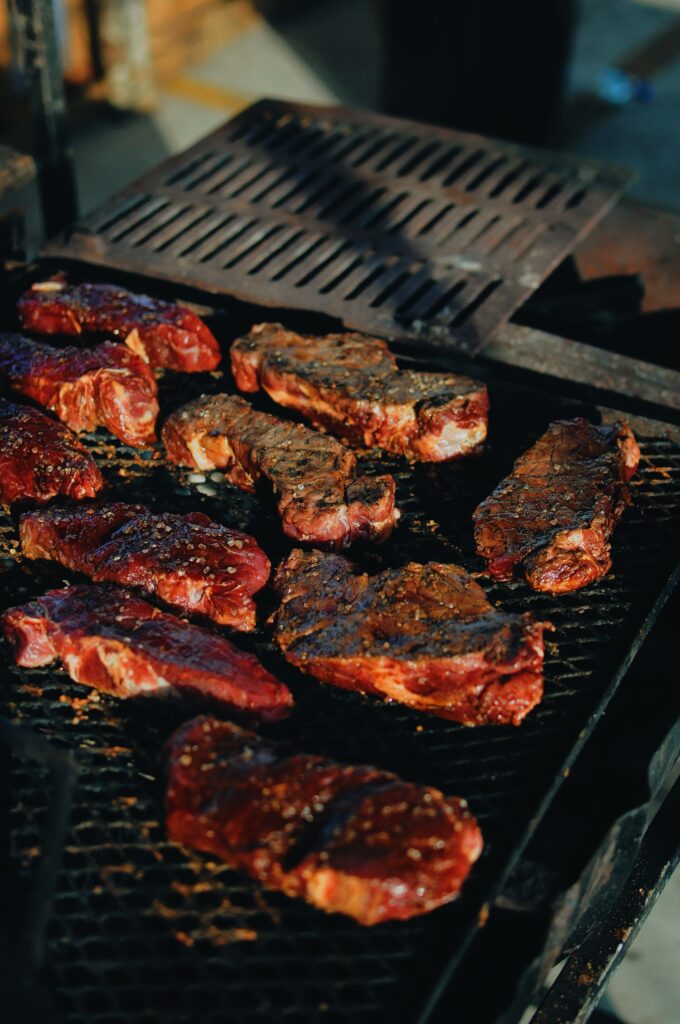 Time-Saving – Your gas and charcoal Bbq grill is going to be ready to cook in a few minutes with just the click of the gas lighter
If you want that smoky flavour and the weather is excellent, you can cook on charcoal instead but light it easily from your gas ignition (SUCH A TIME SAVER, as the coals are hot so much faster!)
If you get the best Dual Fuel BBQ model and brand, you can use both types of fuel at the same time! Look at the Outback Dual Fuel BBQ…
Combining the two cooking options in ONE GRILL can also be a space saver – no need to own a charcoal BBQ and a Gas BBQ.
Cons of buying a Gas/Charcoal Hybrid Grill
Apart from the Outback Dual Fuel BBQ and the Char Broil Dual Fuel BBQs, most other hybrid gas/charcoal bbq makes have minor flaws. You can add things like charcoal trays, only giving enough space for a single layer of charcoal at a time. That means you must keep a watch and top up the fuel to keep the temperature up.
If it's a gas-to-charcoal BBQ with a single grill area, you won't have the air vents like those in charcoal-only grills. So again, it's harder to control the heat.
If you have space, look for a double grill dual-fuel BBQ. That gives you one side for charcoal and one side for gas bbq. These designs have air vents for the charcoal side for heat control; some models allow you to adjust the height of the tray. The trade-off is a smaller grilling area on each side!
All my family and friends who have offered dual fuel bbq reviews have discussed the quality of the cheaper-end models like the Argos Dual Fuel BBQ or the Adli Dual Fuel BBQ. They felt all the budget dual fuel BBQs compromised the quality of the material used.
With the dual fuel BBQ being so new in the UK, we don't have the variety of grills on sale yet to review a broad range for you. We would instead suggest the limited range of quality dual-fuel BBQs above than list cheaper options. We also recommend a few new Hybrid Infrared Gas Grills to expand our offering.
What about the hybrid infrared gas grill?
Could this be a better choice for those looking for year-round cooking options and versatility in their BBQ?
Pros of buying a Hybrid Infrared Gas Grill
This type of BBQ will give any cook the benefits of an infrared gas grill: it heats up quickly, saves time and energy, evenly heats the grill and allows you to cook in any weather.
They are self-cleaning in the main!
What surprised and delighted our reviewers is that these Infrared Gas BBQs produced that smoky flavour from charcoal in the food. This cooking process also retains more moisture in the meat!
These are far more versatile than a plain infrared grill because you can cook food like fish and vegetables that require lower temperatures.
No need to worry about burning your food; you can use the infrared burner only for searing.
Cons (Hybrid Infrared Gas Grill):
Expensive compared to traditional gas grills. This grill could cost you over the thousand mark…but you get what you pay for!
It will need extra care as it does have some complicated components despite being a self-cleaning grill. (and also costs a lot to repair or replace)
This type of hybrid grill has a lot of things going for it. Many drawbacks of using an infrared grill are dealt with – mainly burning food and no low-temperature cooking. And while it may cost you a pretty penny, it gets the job done in more ways than one.
But back to our question, can hybrid grills do it all? The answer we would give is "it depends." If price is no object, you can enjoy the best of both worlds with the Rolls-Royce of hybrid gas/charcoal grills. For those with a limited budget, you might want to steer clear of this type of grill. While a good barbecue grill does require some investment, you don't always have to break the bank to get it.
A hybrid dual-fuel BBQ offers the best of both worlds: the authentic taste and aroma of charcoal grilling and the convenience and temperature control of gas grilling. But with so many options available, how do you choose the right one? This buyer's guide will help you navigate the key factors when selecting the perfect dual-fuel BBQ for outdoor cooking.
By considering these factors, you'll be well on your way to finding the perfect hybrid dual-fuel BBQ for your outdoor cooking adventures. Happy grilling!
Latest posts by Alexandra
(see all)
Last update on 2023-12-03 / Affiliate links / Images from Amazon Product Advertising API
This product presentation was made with AAWP plugin.