Keep your food and drink cool with our amazing Cooler Bags & Cool Bag Rucksacks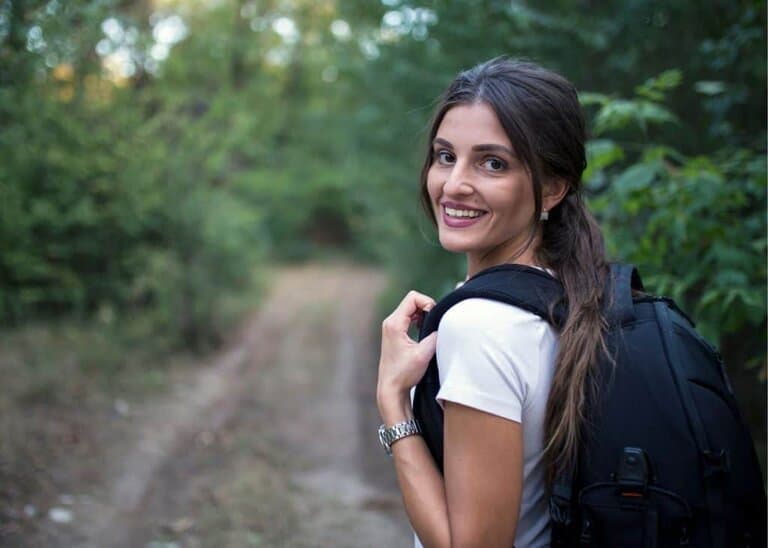 Cooler backpack & cooler bags are indispensable for outdoor enthusiasts like me, Alexandra, the picnic queen. They are essential for keeping food and beverages chilled during outdoor adventures. Traditional hard-sided coolers can be cumbersome, but backpack coolers offer a hands-free and convenient solution.
Whether planning a hiking trip, beach day or a simple stroll to the local lake, a good backpack cooler should retain ice for an extended period and be comfortable to carry. Some even come with additional features that might surprise you.
This cooler rucksack comes with a hefty price tag, but I'm pleased to say that its design and performance justify the cost. Visually, it's a stunner. I opted for the Talus shade, a delightful blend of greyish blue-green. The name "Talus" puzzles me a bit – it doesn't remind me of any rock colour I know, but I'm smitten with it nonetheless! Its rubberised finish boasts a glossy lustre, enhancing its appeal and ensuring it's waterproof inside and out.
Wearing the backpack is a breeze, and it sits comfortably on my back. If you're more inclined towards a cooler bag, Hydro Flask offers 26l and 18l alternatives.
When it comes to preserving the cold, this cooler is top-notch. Its insulation is both thick and efficient. While it might not match up to the performance of a hard-shell cooler, it's not a like-for-like comparison. This rucksack is crafted to be lightweight and effortlessly portable. Pack a generous amount of ice, and it'll serve you brilliantly. It's promoted as a 36-hour cooler, making it apt for a two-day excursion. I've predominantly used it for day-long drives; it hasn't disappointed me even in scorching conditions.
---
Pros:

More affordable than other premium soft coolers.
Spacious side pocket suitable for a water bottle or phone.
Padded strap system for comfort.

Cons:

The absence of a hip belt can limit carrying comfort.
I primarily utilised the backpack during my testing phase for my work needs. Impressively, its material has proven resilient against heavy downpours. The main compartment comfortably accommodates my lunchbox, a mid-sized Bluetooth speaker, a 32oz hydro flask, and a large raincoat. The lower compartment is apt for storing cold food items.
The main and middle compartments feature mesh pockets, which are handy for essentials like a phone and wallet.
Additionally, a mesh pocket in the cooler section is designed for an ice pack. While the storage capacity is ample for daily essentials, I wouldn't recommend it as a go-to for extended travel.
---
Pros:

Functions as a traditional backpack with a cooler base.
Compact and suitable for daily use.

Cons:

The DWR finish isn't entirely waterproof.
Side pockets are too shallow for tall water bottles.
The ideal cooler backpack! Being 5ft 5in and 80kg, my primary concern was finding a backpack that would comfortably fit me, and this one ticks that box perfectly! However, it's not just the fit that earns it a full five stars.
Its features, functionality, and aesthetics are top-notch. The storage options are plentiful, with various pockets, including a cleverly designed side pocket with a slit, allowing me to pull out tissues one by one – an absolute boon for those moments when my nose decides to act up outdoors!
The design is thoughtful, allowing me to store heavier items, like iced drinks and food, in the lower section of the pack. The upper compartment is spacious enough for my binoculars and dry snacks. There's also a discreet zippered section at the back, resting against my body, perfect for safeguarding personal items like car keys. This cooler backpack has left me thoroughly impressed at every turn. If you're on the fence, I advise: GET IT at this price point. It rocks!
---
Pros:

A padded hip belt ensures comfort for prolonged carrying.
Double Decker design to keep food & drink separate.
Large external side pockets for added storage & anti-theft Pocket

Cons:

Suitable for waists up to only 46 inches.
Not entirely leakproof, making it less ideal for extended trips.
This cooler backpack, with dimensions of 46x34x21cm and weighing a mere 0.9 kg, is a marvel in design and functionality. It boasts an impressive capacity, holding up to 30 cans and ensuring they remain chilled for up to 20 hours with an ice pack. The 5-layer protection, including 400D nylon fabric, 8mm EPE foam, and a BPA-free food-grade TPU inner coating, enhances its wear resistance, UV protection, and waterproof capabilities.
The organisation is a breeze with its seven thoughtfully designed pockets. From the main insulated compartment for food, a top section for fruits, a front pocket for essentials, to side pockets for beverages and picnic essentials, every detail has been considered. Not to mention the handy beer opener on the strap and a mesh pocket for easy phone access.
But what truly sets it apart is its leakproof design, thanks to the hot-pressed TPU coating and the weatherproof 400D polyester exterior. Coupled with its padded shoulder straps and breathable back padding, it offers unparalleled comfort. For outdoor enthusiasts like me, who love hiking and picnicking, this Estarer Cooler Bag Backpack is an absolute gem!
Pros:

Exceptional value for money.
Comfortable straps and a practical design.
Heaps of storage space

Cons:
5. Best Waterproof Cooler Rucksack: IceMule Boss
This is the pinnacle of cooler backpacks – it's exceptionally COOL! Unparalleled portability, unmatched ice retention, and unrivalled ease of use. Unsurprisingly, the ICEMULE BOSS™ stands out as the premier cooler-backpack hybrid. Enjoy refreshingly cold beverages consistently, whether on the move for hours or days.
Its top-tier, multi-day ice retention and industry-leading suspension system provide the finest cool bag rucksack. Its backpack quality rivals renowned brands like The North Face, Ogio, and Osprey.
Designed with the precision of a high-end technical backpack, this cooler ventures where others wouldn't dare. It guarantees longer-lasting cold drinks and adapts seamlessly to your movements. With the ICEMULE BOSS™, maintaining the perfect ice-cold temperature becomes effortless. From now on, your cooler is one less concern.
While it might carry a heftier price tag – even up to ten times some competitors – the value is evident in its unparalleled quality. It epitomises soft-sided coolers, offering premium quality that justifies the investment.
Pros:

Exceptional ice retention was suitable for multi-day adventures.
Waterproof pockets to keep essentials safe.
Lashing straps for added convenience.

Cons:

On the pricier side.
It might be too heavy for casual use.
Having previously owned the Igloo Reactor Soft-Sided Backpack Cooler, I initially hesitated to switch. But the Igloo Voyager, 30 Can Chiller Backpack, has been a delightful surprise. It's the perfect size for my urban adventures, with dimensions of 30.5 x 27 x 43 centimetres. The blend of robust neoprene and recycled Primaloft Gold insulation from post-consumer plastic bottles keeps my drinks and snacks chilled all day.
One feature I particularly appreciate is its leak-resistant internal liner and zips. I've always preferred ice blocks over loose cubes, and this backpack supports that choice brilliantly. The sleek design avoids the boxy 'cooler' look, and the cinch-opening flip-top provides quick and easy access to my items.
What genuinely sets the Voyager apart for me are its eco-friendly features. Knowing that the exterior is crafted from recycled plastic bottles gives me a sense of pride. The hex bungee system is a game-changer, allowing me to secure additional items to the front effortlessly. The coil zippers, with their unique inward-facing teeth and T-shaped pulls, add a touch of sophistication. Plus, the MaxCold insulation, with its high-density PE foam, ensures my drinks stay cooler for longer.
While it might not be suited for long hikes due to its strap design, it's perfect for my city escapades. In conclusion, the Igloo Voyager has not only met but exceeded my expectations. It's stylish, functional, and eco-conscious – everything I was looking for in a cooler backpack.
Pros:

Perfect for carrying wine bottles at the ideal temperature.
Made from post-consumer waste Primaloft insulation.
Unique cooler design that stands out.

Cons:

Limited storage capacity.
Basic backpack straps without much padding.
My brother Michael has got in on the reviewing to help me out! One girl can't try all the bags, you know…
I got the CamelBak ChillBak 30 for Christmas, and it's been an absolute game-changer for our adventures. Priced at £242, it's on par with some high-end hard-sided coolers, but its versatility is unmatched. As someone who loves walking and diving, this cooler has accompanied me everywhere, even on our recent camping trip across the USA.
The CamelBak ChillBak 30 boasts a capacity for 24 cans, 6 litres of water, and roughly 6.8 kilograms of ice. Beyond its impressive storage, what truly stands out is the 6-litre reservoir bladder. Instead of the usual personal nozzle, it features a nifty spigot, turning it into a convenient tap – perfect for those unexpected dishwashing moments during our camping trips.
Its waterproof design, sealed seams, and dependable roll-top closure ensure everything stays dry. Once packed, it promises to keep beverages chilled and ice solid for up to 72 hours – ideal for a long weekend getaway. Thanks to a well-padded back panel, the separate reservoir remains cool, and the watertight zipper ensures no leaks.
However, there's a slight downside. When fully packed, it weighs close to 22.7 kilograms. It's a significant weight, especially for longer treks. But the supportive straps and waist belt make it manageable. Essentially, with the CamelBak ChillBak 30, I'm carrying the party's life and the next day's remedy in one fantastic blue rucksack. I couldn't be more pleased with this gift!
---
Pros:

Versatile design with a large hydration reservoir.
Completely waterproof, ensuring contents stay dry.
Can keep drinks cold for up to 72 hours.

Cons:

Quite heavy when fully loaded.
It might be challenging for some to carry over long distances.
Four years ago, I gifted my parents the Sunflora Picnic Rucksack, and it's been their constant companion ever since. Crafted with a blend of stainless steel and TPE in a sophisticated brush beige hue, this cooler bag seamlessly marries style with functionality. Its impressive 64-litre capacity ensures ample space for picnic essentials, making it perfect for their outings.
What sets the Sunflora Rucksack apart is its extra-large insulated food compartment. My mum particularly adores how it keeps everything cool and fresh for hours, ensuring their snacks and fruits remain at the perfect temperature. The comprehensive picnic set, equipped with tableware for four, an insulated wine pouch, wine glasses, and a spacious picnic blanket, adds to its allure.
Its design is not only about functionality; it's also about convenience. The rucksack fits 'easy peasy' in their car, making it a breeze to take it everywhere. Whether they're off to the beach, park, or forest adventure, this cooler bag has been a reliable companion, ensuring their picnics are always memorable.
The Sunflora Picnic Rucksack is more than just a cooler bag; it's a cherished gift that has enhanced my parents' outdoor experiences. If you're looking for a reliable, stylish, and functional picnic rucksack, this one comes highly recommended by a family that truly loves it.
Pros:

All-in-one system perfect for picnics.
Comfortable padded backpack straps.
Easy to clean after use.

Cons:

More suited for specific picnic use rather than versatile outings.
Since introducing the PENGDA Cool Bag Rucksack on our site, it's been flying off the shelves, becoming our bestseller in no time. And it's not just our customers who are raving about it; my husband swears by his PENGDA Cool Bag Rucksack for his daily work routine.
Crafted with precision, this rucksack, available in a sleek black shade and made from durable polyester, boasts a generous 32-litre capacity. Its dimensions of 45 x 20 x 33 centimetres make it spacious yet compact, and at a mere 0.72 kilograms, it's incredibly lightweight.
But what truly sets the PENGDA Coller apart is its meticulous design. The insulated zipper pocket on the lid is a game-changer, ensuring easy access to essentials while keeping them cool. The expanded mesh side pockets are perfect for storing items, ensuring breathability. And with its advanced leak-proof zipper design, you can be confident that your belongings will remain dry and secure.
Comfort hasn't been compromised, either. The breathable mesh back padding ensures a pleasant wearing experience, even on extended adventures. The thick foam insulation combined with a heat-sealed, leak-proof lining guarantees that your food and drinks remain chilled for hours. And for those who love organisation, the multiple compartments ensure everything has its place, from beers and sandwiches to small accessories.
One of my husband's favourite features? The attached beer opener is on the strap. It's these thoughtful additions that make the PENGDA not just a cool bag rucksack but a trusted companion for all outdoor escapades.
In conclusion, if you're in the market for a reliable, stylish, and functional cooler backpack, the PENGDA Cool Bag Rucksack is a tried and tested choice. It's not just a product; it's an experience.
Pros:

Stylish design at an affordable price.
Comfortable to carry with a sturdy base.
Includes a bottle opener on the webbing straps.

Cons:

The zipper isn't waterproof.
Lacks additional storage pockets.
---
Alexandra's Guide to Choosing the Perfect Cooler Backpacks and Cooler Bags
1. Purpose & Duration of Use:
Day Trips: If you're only out for a day, you might not need a cooler with multi-day ice retention. Look for lightweight and compact designs.
Extended Trips: Opt for a cooler rucksack with longer ice retention capabilities for camping or multi-day hikes.
2. Ice Retention:
Consider how long you need your items to stay cold. Premium brands often offer longer ice retention but might come at a higher price.
3. Capacity & Size:
Determine how much you'll typically need to carry. Remember, ice packs or ice cubes can take up significant space.
Consider the external size, too, especially if you'll be hiking or need to fit the rucksack in a specific space.
4. Comfort & Portability:
Straps: Look for padded and adjustable shoulder straps. For extended carrying, a hip belt can help distribute weight.
Back Padding: This ensures comfort, especially if the rucksack is pressed against your back for long durations.
5. Material & Durability:
Opt for robust materials like heavy-duty polyester or nylon. They should be tear-resistant and able to withstand rough handling.
Waterproof or water-resistant materials are a plus, especially if you're outdoors.
6. Additional Features:
Pockets: External and internal pockets can help organise and keep non-food items separate.
Leak-Proof: Ensure the cooler is leak-proof, especially if you'll be using ice cubes.
Insulation: Double-wall insulation or reflective barriers can enhance ice retention.
Zippers: Look for corrosion-resistant and durable zippers. A bonus if they're waterproof!
7. Maintenance & Cleaning:
Opt for a rucksack with an interior that's easy to wipe down. Some might even have removable liners for thorough cleaning.
Mildew resistance is a plus, especially if you're in humid areas.
8. Price & Warranty:
Set a budget but remember that sometimes you might be paying for durability, brand reputation, and advanced features.
A warranty can testify to the product's quality and the manufacturer's confidence in it.
9. Environmental Considerations:
If sustainability is essential for you, look for coolers made from recycled or eco-friendly materials.
Brands with a give-back or environmental initiative might also appeal to eco-conscious buyers.
10. Reviews & Recommendations:
Always check user reviews to get real-world insights into a product's performance.
Personal recommendations from friends or trusted sources (like Alexandra, the picnic queen!) can also guide your decision.
---
Remember, the best cooler backpacks and cooler bags for you depends on your individual needs and preferences. Take your time to assess what you truly need, and you'll surely find a perfect cooler rucksack for your adventures!
In conclusion, each cooler backpack or cool bag rucksack has unique features and benefits. It's essential to choose one that aligns with your specific needs. Whether hiking, picnicking, or just out for a day trip, there's a cooler rucksack for you. And remember, always pack with Nico Scrapies' advice to ensure your food stays fresh and delicious!
Latest posts by Alexandra
(see all)