The Ultimate Guide to Creating a Relaxing Oasis on a Budget
Imagine transforming your garden into a tranquil spa retreat where you can unwind and relax after a long day. Sounds like a dream, right? But what if we told you it's easier than you think, and you don't need a fortune to make it happen? Welcome to Lazy Spas, your ticket to creating a personal oasis in your back garden.
Lazy Spas, or Lay-Z-Spas or hot tub spas, are an affordable and versatile alternative to traditional hard-shell jacuzzis. They offer the luxury of a hot tub spa without the hefty price tag and the need for a dedicated space. With a Lazy Spa, you can enjoy the soothing warmth of a hot tub spa whenever you want, and when you're done, you can deflate it and reclaim your garden space.
But the benefits of a Lazy Spa extend beyond just relaxation and affordability, according to a study by Sellhousefast.UK, a well-kept garden can add as much as £2,000 to the value of your property, with the right garden potentially adding anywhere between 5% to 20% to a property's value. With 37% of Brits spending more time in their garden than five years ago, outdoor space is becoming increasingly popular and in demand.
In this article, we'll guide you on creating a spa retreat in your garden featuring a Lazy Spa hot tub as the star attraction. Picture this: your Lazy Spa hot tub set under a beautiful gazebo, surrounded by lush plants that add to the serene ambience. Sitting in your home jacuzzi's warm, bubbling water, you can chill with a drink, letting the day's stress melt away.
So let's explore how you can transform your garden into a relaxing spa retreat, perfect for entertaining and maximising the great outdoors on a budget while potentially increasing your property's value.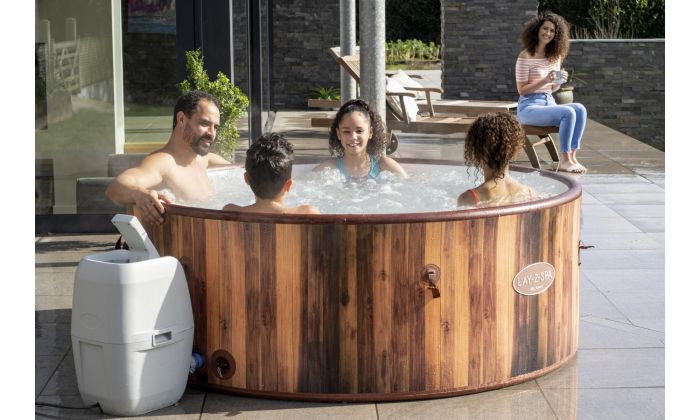 Why Choose a Lazy Spa?
Choosing a Lazy Spa for your garden has many benefits, making it a more appealing option than a traditional hard-shell jacuzzi or indoor swimming pool. Here are some reasons why a Lazy Spa could be the perfect addition to your garden:
Affordability: One of the main advantages of a Lazy Spa is its affordability. While the average cost of a hard shell jacuzzi in the UK can range from £3,000 to £10,000, a Lazy Spa for six people can be purchased for as little as £400 to £800. This makes it a much more budget-friendly option for many households, especially for those who want to enjoy the luxury of a hot tub without breaking the bank.
Popularity: The demand for hot tubs, including Lazy Spas, has surged in recent years. Retailers have reported a 1,000% increase in sales during the lockdowns, indicating a growing trend towards creating relaxing outdoor spaces at home. With a Lazy Spa, you'll join many UK households transforming their gardens into personal retreats.
Ease of Installation: Unlike hard shell jacuzzis or indoor pools, Lazy Spas are incredibly easy to install. They are inflatable, so you can set them up whenever you want to use them and deflate them when not in use. This flexibility allows you to reclaim your garden space whenever you need it.
Portability: Thanks to their inflatable nature, Lazy Spas are portable. You can easily move them around your garden to find the perfect spot or even take them on camping trips or vacations.
Comfort: Despite their affordability and portability, Lazy Spas do not compromise on comfort. They come with a cushioned floor and inflatable walls that provide a comfortable seating area, making your spa experience as relaxing as possible.
Maintenance: Maintaining a Lazy Spa is much simpler and less time-consuming than maintaining a hard-shell jacuzzi or an indoor pool. Most models have easy-to-change filters and chemical floaters to keep the water clean and safe.
Versatility: Lazy Spas are available in various sizes and styles to suit different needs and preferences. Whether you want a spa for solo relaxation or entertaining friends and family, there's a Lazy Spa model for you.
Investment in Outdoor Living: UK households spent an average of £1,976 on garden improvements in 2020, which has likely increased since the pandemic. By choosing a Lazy Spa, you're not just buying a hot tub; you're investing in your outdoor living space, enhancing your home's appeal and potentially increasing its value.
The rising popularity of Lazy Spas worldwide is a testament to its appeal. Their affordability, ease of use, and luxury make them an increasingly popular choice for those looking to create a spa-like retreat in their gardens.
Choosing the Right Lazy Spa for Your Garden Retreat
Choosing the right Lazy Spa for your garden is an important decision. Your chosen model should ideally fit your space, budget, and personal preferences. Here are some popular Lazy Spa models that you might consider:
Remember, the best Lazy Spa for you depends on your specific needs and circumstances. Consider the size of your garden, how many people will typically use the spa and your budget. Also, consider additional features like LED lights or hydro jets that can enhance your spa experience.
Before purchasing, it's always a good idea to read reviews, so click on each Lazy Spa Named above for my in-depth review. To buy your Lazy Spa at the best price, click on the comparison table below:
| Lazy Spa Model | Size (People) | Special Features | Click to Buy |
| --- | --- | --- | --- |
| Paris Lazy Spa Hot Tub with LED Lights | 4-6 | Multi-coloured LED lights | Shop here |
| Vegas Lazy Spa Hot Tub | 4-6 | Classic design, easy setup | Shop here |
| Miami Lazy Spa Hot Tub | 2-4 | Compact size, ideal for small spaces | Shop here |
| Hawaii Lazy Spa HydroJet Pro | 4-6 | Eight hydro jets and 120 air jets for a luxurious massage experience | Shop here |
| Maldives Lazy Spa Jacuzzi | 7 plus | One of the largest models, ideal for larger families or hosting parties | Shop here |
Please note that this is a simplified comparison, and each model has additional features and specifications that you might want to consider based on your specific needs.
Setting Up Your Lay Z Spa Hot Tub Correctly In Your Garden
Creating the perfect spa area for your Lazy Spa involves more than inflating it. Preparing a suitable and level surface is important to ensure stability and enhance the spa experience. Here are some steps to consider when setting up your Lazy Spa:
Choose the Location: Select a location in your garden that offers privacy and convenience. Consider factors such as accessibility, proximity to electrical outlets, and the availability of a water source for filling and draining the spa.
Preparing the Surface: Before placing your Lazy Spa, it's crucial to prepare a level and sturdy surface. You have various options to create a solid foundation:

Decking or Patio: An existing decking or patio area can provide a stable surface for your Lazy Spa. Ensure the structure can support the weight of the filled spa.
Concrete Base: A concrete base is popular for creating a sturdy foundation. Consult with professionals to ensure it is properly laid and levelled for your spa model.
Gravel or Pavers: Create a level area using gravel or pavers, providing flexibility and adjustability.

All-Weather Gazebo or Canopy: Consider adding an all-weather gazebo or canopy to your spa area. It creates an inviting and private space while protecting it from the elements throughout the year.
Ambience and Décor: Enhance the spa atmosphere with elements that promote relaxation and comfort. Read on for some ideas to make your home spa truly an oasis.
Maintaining the Lazy Spas is easy, and you can learn more about how to clean and maintain your inflatable hot tub properly here.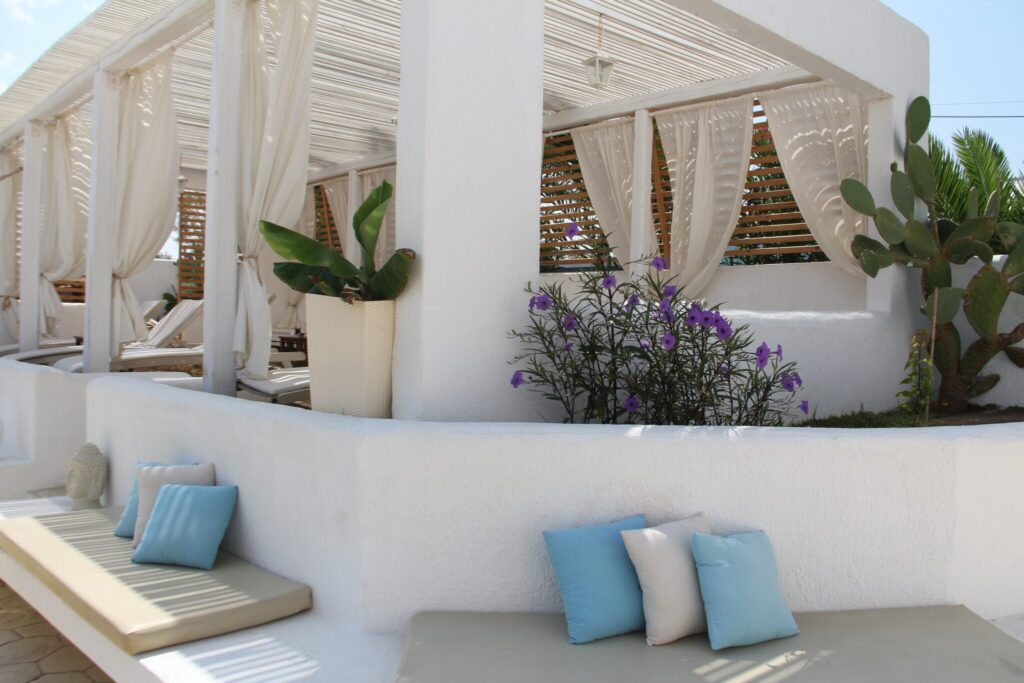 Creating the Perfect Garden Spa Retreat On a Budget
To transform your garden into a relaxing and serene spa retreat, consider the details contributing to the overall ambience. Here are some ideas on how to create a soothing and luxurious atmosphere around your Lazy Spa:
Remember, creating a spa-like ambience doesn't have to break the bank. You can achieve a luxurious and calming oasis in your garden by utilizing budget-friendly options and finding deals on platforms like Amazon.co.uk. Explore different lighting combinations, plants, seating, and décor to personalize your spa retreat and create an atmosphere that promotes relaxation and well-being.
Conclusion
Congratulations! You're now equipped with the knowledge and inspiration to transform your garden into a spa retreat with a Lazy Spa. Following the steps outlined in this article, you can create a tranquil oasis that promotes relaxation and rejuvenation right in the comfort of your back garden. Whether you want to unwind after a long day or enjoy quality time with loved ones, a Lazy Spa offers the perfect solution.
Remember to carefully set up your Lazy Spa, ensuring a level surface and creating a cosy ambience with soft lighting, comfortable seating, and natural greenery. Incorporating these features create a serene environment that enhances your spa experience.
So what are you waiting for? Start your garden transformation today and experience the joy and tranquillity of a Lazy Spa in your own backyard. Indulge in the luxury of a spa retreat, unwind amidst nature, and create lasting memories with friends and family. Your personal oasis awaits!
Sign up for our weekly newsletter and discover the endless possibilities of creating a serene and luxurious spa experience in your garden.
Latest posts by Alexandra
(see all)