The Thermos Flask is simply a picnic staple, and a must-have for any dining out experience, whether it be picnics, camping or even at festivals.
Our Best Thermos Flasks and Vacuum Flasks can keep your food and drink hot or cold. Moreover, these days you're not limited to drinks or soup either – there are some fantastic picnic food flasks on the market too. These are also great for popping in your lunch bag with lovely home-cooked food (or leftovers!).
Our various Vacuum flasks are also great for road trips – whether you need a quick cuppa as a pick-me-up or want to keep water or juice cool on a long summer journey.
There's a huge range of Thermos Flasks on the market, from individual-sized models to ones big enough to keep soup toasty for the whole family. In addition, there are flasks to suit every budget. I have included a few of the budget Thermos Flasks, but only ones that I feel work very well.
If I'm honest, investing more in a flask (and a good water bottle, and I recommend the hydro flask) is worthwhile. It will keep your food warmer for longer and last you for years – as I can testify to with my good old Stanley flask, my picnic companion since before Theia was born!
Here are some of our absolute favourites below, from old favourites like Stanley and Thermos to their more modern competitors. Also, check out our comprehensive thermos flask buyers guide before you purchase.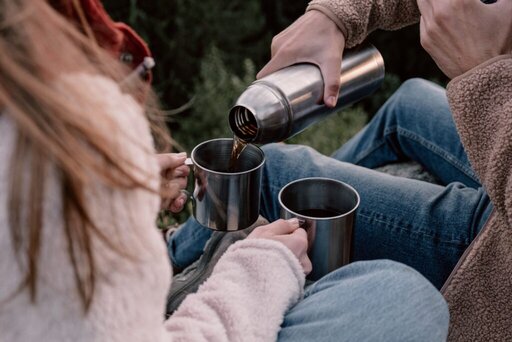 Our Best Thermos & Vacuum Food Flasks for 2023
Stanley Classic Legendary Bottle 1L / 1.1QT Hammertone Green ? BPA...
BEST 1L THERMOS FLASK: I choose this Stanley Food Flask because, honestly, they are built for a lifetime. From his uni years, my dad is still going strong on family outings! And that makes it over 50 years old. Stainless steel does not rust and comes with an easy pour and cup. Not fancy, but it last!
Thermos 101514 Stainless King Food Flask, Red, 710 ml
BEST THERMOS FOOD FLASK: Keep your food hot on the go with the Thermos King Food Flask. This easy clean soup flask will keep soup/food hot for 14 hours and cool for 24 Hours. The lid can be a dish or cup. Cool touch walls and stainless steel so shatterproof
Sale
Thermos 101834 Stainless King Travel Mug, Matt Black, 470 ml
BEST THERMOS COFFEE MUG: I choose this because they are so robust, our last years. I love the handle for easy carry & sip on the go. Keeps coffee warm for 7 hours (as if my coffees last that long!). Fits in most car cup holders. Drinklock sealing lid for easy sup and even has a tea bag holder!
I recommend these Picnic Thermos Flasks and Food Flasks as the UK's best based on the following criteria:
Heat retention – how long will they keep my food or coffee at the right temperature?
Build quality – will it stand up to being dropped or having the odd knock? Is there any leakage?
Durability – how long will it last? Is it weatherproof, or will it rust?
Cost – how much value am I getting for my money?
Added extras like a carry handle, case or spoon for a food flask
Best Xtra Large Thermos Flask (2L and bigger)
Discover the best extra-large 2L Thermos flasks to keep your beverages hot or cold for extended periods.
These high-capacity flasks are perfect for family outings, long hikes, or camping trips, ensuring everyone stays hydrated and refreshed. Each flask features superior insulation technology, robust construction, and user-friendly designs for seamless operation.
Explore our curated collection and find the perfect 2L to 5L extra large Thermos flask that meets your capacity, durability, and temperature retention needs. Experience the convenience of carrying more of your favourite drinks wherever you go with these exceptional thermos picnic flasks.
Best 1L Thermos Flask
Discover our curated selection of the best 1L thermos flasks that ensure your beverages maintain their optimal temperature, whether hot or cold.
Each flask combines superior insulation technology with durable construction and user-friendly design. Ideal for outdoor adventures, lengthy road trips, or daily office use, these flasks stand up to the rigours of everyday life.
With various styles and features, finding the perfect 1L thermos flask that fits your needs has never been easier. Stay refreshed and hydrated, no matter where your day takes you.
Best Thermos Food Flask
Discover the finest selection of thermos food flasks designed to keep your meals warm or cold for extended periods.
Whether you're packing soup for lunch, fresh fruit for a picnic, or hot chocolate for a winter hike, these flasks offer unparalleled performance. Crafted with superior insulation technology, they ensure your food remains at the desired temperature.
From compact designs for light travel to larger options for family outings, our collection caters to all your needs. Experience the blend of convenience and efficiency with our top-rated thermos food flasks.
Best Individual Vacuum Flask
Discover the best individual vacuum flasks that combine convenience, style, and thermal efficiency. These flasks are designed to fit seamlessly into your daily routine, keeping your beverages at the perfect temperature while on the go.
From sleek designs to robust outdoor options, each flask offers unique features that cater to various needs. Whether you're a coffee connoisseur, a tea enthusiast, or a lover of cold drinks, our carefully curated selection of top vacuum flasks will meet your performance, durability, and style expectations.
Let's dive in and explore the finest individual vacuum flasks available today
Best Thermos Cup
A reliable thermos cup can make all the difference in our fast-paced, on-the-go world. Whether you're a coffee enthusiast needing your hot brew throughout the day, a tea lover savouring your infusion, or a fitness enthusiast staying hydrated, the right thermos cup is key.
We have curated a selection of the best thermos cups, considering factors like heat/cold retention, durability, leak-proof design, and overall style.
These thermos cups meet not only functionality but also aesthetic appeal. So, explore our top picks to ensure your beverages stay at their optimal temperature, any time, any place.
Have you used any of these Thermos Flasks or Food Flasks? Then please leave your review in the comments box below.
Is your favourite Vacuum Flask or Thermos Picnic Flask not on the list? Be sure to let me know in the comments below so I can review it.
Buyers guide to the best Thermos Flasks
Design of a Thermos Flask
Firstly – think about how many people you will use the flask for. If you're taking it along on a family picnic, by all means, go for a super-sized version, but if you want to take a hot drink along to work in your lunch bag, then an individual flask is a much more sensible option!
If you don't want to take a cup with you, look for an individual-sized flask with a lid that doubles as a cup or mug! Also, consider the material your flask is made of and ensure it won't be too difficult to hold (particularly in winter, in case you have gloves). There's nothing more frustrating than dropping a flask full of the hot drink you've been looking forward to – trust me, I've been there!
Traditional flasks also can keep soup warm, but you might be better looking at a food flask here – they often come with a built-in/attached spoon and bowl to make eating on the go more convenient! It's probably a better option if (like me) you like your soup chunky.
Build Quality of a Thermos Flask
The build quality of a Thermos flask or Food Flask is important, as skimping here will mean it's unlikely to be as effective at retaining heat. You also want to ensure that it's double-walled and thick enough that you won't burn your hands picking it up when it's full!
Make sure the screw top and lid (if applicable) are well-fitting, and there's no chance of leaking – it shouldn't require a massive effort to line the lid up and close it properly.
Does it look like it will survive a knock or a drop? It happens, and you don't want the insulating qualities to be affected here.
The Durability of a Picnic Flask
Is the flask made from a durable enough material? Will it survive being carried in your backpack or picnic basket or banging up against food containers in your lunch tote without damage to the exterior or coating?
Think about where you'll be using your flask too. For example, if you're a keen any-weather hiker, you'd be best going for something sturdy and weatherproof over the prettiest design! And make sure it's made from materials resistant to rust, like stainless steel and aluminium.
Cost of a Thermos Flask
Take my word for it – investing in a quality flask from a reputable brand and spending that little bit is well worth it. The adage 'Buy Cheap, Pay Dear' holds here – if you go for a super-budget version, you'll be wishing you hadn't when you open your flask to lukewarm coffee at lunchtime! Or when your tomato soup leaks all over your bag…
Think about the PPU – price per use! If you're using your flask daily for lunch, it works out as really good value if you spend even £30-£35 on it. And think about how much you'll save on takeaway coffee…
Even if you don't use your flask every day, statistically, a flask is one of the most heavily used pieces of picnicware! As well as picnics, we commonly take a flask on long drives, walks, hikes and lots more.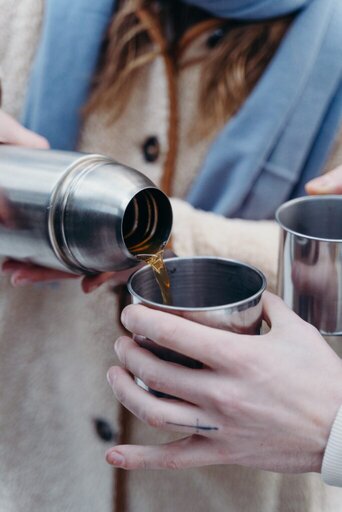 Frequently Asked Questions About Thermos Flasks
How do Thermos Flasks work?
A thermos flask works by a sealed stopper that stops heat/cold air from getting in, creating a vacuum that stops conduction, and the metal lining between the outer case and the inner chamber stops heat radiating.
This means there's virtually no way heat can escape from a vacuum or thermos flask, and a hot drink stored inside should stay steaming hot for several hours.
How do I clean a Thermos Flask?
The best way to clean a Thermos Flask is to wash up liquid and warm water, then rinse thoroughly with hot water (getting to your location to taste soap is no fun, trust me!). 
If you want to wash your Vacuum Flask in a dishwasher, check whether your flask is suitable before you begin.
To remove difficult stains, Thermos recommends trying a teaspoon of bicarbonate of soda, and I can safely say that it is an absolute treat on tea and coffee stains!
How long do Thermos Flasks stay Hot?
A Top-quality Thermos flask will stay hot for around 24 hours. Everyday flasks should retain heat for around 12 hours. For cheaper models, it is usually around 6 hours. 
How do I use my thermos flask for the first time?
To use a thermos flask for the first time wash it as above and rinse thoroughly!
Then I'd suggest warming your thermos by filling it with boiling water. Put the lid on and let it sit for a few minutes, then pour the water.
Once warm, quickly add steaming hot food (at or above 74°C or 165°F) or boiling drinks and screw the lid on tightly.
Essential Picnic Items
Before we go, here are quick links to our other picnic essentials. If you have all these, you are sure of the perfect picnic!
Can you think of another essential picnic item I need to include? If so, drop me a line in the comments.
Latest posts by Alexandra
(see all)
Last update on 2023-12-03 / Affiliate links / Images from Amazon Product Advertising API
This product presentation was made with AAWP plugin.