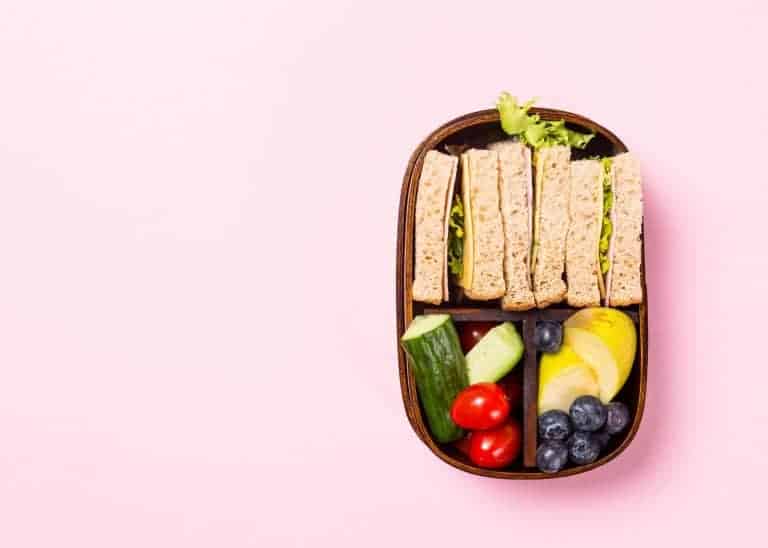 Of course you'll need something to store and transport all of your delicious picnic food in – and that's where you want the best food storage containers!
You'll find plastic food storage containers in all shapes and sizes, for storing everything from snacks to fruit to sauces and condiments.
There are items to suit all budgets, but again I would caution that if you buy too low priced plastic food containers it will often end up costing you more in the long run, as cheaper plastic food containers are more prone to splitting, cracking or staining.
It's also best to look for plastic food containers with no nasty chemicals either – with a BPA free certification. This is a big concern for me as a mother.
Glass food storage containers are oven, freezer and dishwasher safe, and can be used over and over.
If you're trying to cut down on your plastic use there are many sustainable options also, from those made with recycled materials to bamboo food containers. Or how about a retro-cool and durable metal lunchbox?
On this page I offer other fun food storage idea in the shape of fantastic lunch boxes.  Here you can buy options like bento boxes for portioning your food or just keeping different meals separate! 
Take a look at some of the options on offer below in our round up of the best food storage containers!
BPA Free Plastic Food Containers
BPA (Bisphenol A) has been been linked to high blood pressure, effects on the brain and even cancer. I would always check when I'm buying plastic for a BPA free version, and it's no exception with water bottles!
Plastic containers are great for kids as they're a sturdy, cheap and cheerful school-lunchbox option! They also come in a huge variety of sizes and options, from specially sized versions to stop your sarnies from getting squashed, to stackable, space saving tubs for smaller snacks.
My absolute faves are Sistema – they're my go-to for BPA free plastic food containers!
Glass Best Food Storage Containers
These are so versatile! What I love most about them is that you can use them for EVERYTHING – from freezing to microwaving to cooking in the oven.
They're available in a variety of sizes and shapes, and I particularly like the Kilner range for salads, overnight oats and cold soups (mmm gazpacho anyone?!) or even a portion of yoghurt!
Eco-Friendly Bamboo Lunch Box
Bamboo Lunch Boxes are generally made from fully compostable bamboo fibre – focusing on sustainability and allowing you to reduce the amount of single use plastic in your life!
They often include partitions for food and bamboo cutlery too, and come in a range of absolutely gorgeous designs. Sustainability and style – you're spoiled for choice!
Bento Boxes For Food & Portion Control
Like to be organised? Or practicing portion control? Bento boxes are the perfect solution.
With different sections and compartments for separating your food and snacks, you can avoid foods mixing or leaking on to one another (no more soggy sandwiches!) and options with a double or triple layer mean you can keep strongly flavoured foodstuffs away from others.
The original lunchboxes! Sturdy and easy to clean, metal lunchboxes are another long-lasting and sustainable option. They're also pretty retro cool IMHO!
You can choose from a variety of sizes and types, from simple, roomy one-pieces to compartmentalised bento-box options.
Best Food Storage Containers Sets
Great value – usually its cheaper to buy containers in a set! You can also pick a pack with a handy range of sizes for various different snacks and foodstuffs.
I love ones that fit neatly inside each other when they're empty, it makes things so easier when you're clearing up to go home, or for storage. Collapsible silicone options are great for this too.
Fun, Retro and Quirky Lunchboxes!
Want something a bit fun or different that expresses your personality? There are some awesome fun and funky lunch and snack box options out there!
My hubs has had his eye on the Stanley lunchbox for a while now…I even like its iconic retro-cool look myself! I've recently bought the Suck UK Robot for a birthday gift last year (filled with treats for the recipient!) and also the Rocket Option which isn't pictured. They're a great company – I hadn't actually heard of Suck UK until I came across their quirky bearskin blanket – see more about it on the blog!
Best Food Storage Containers and Lunchboxes for Kids!
Fab lunch and snack boxes for your little ones! It's amazing how fun and colourful presentation can help encourage kids to eat up – I think bento box styles are perfect for this as they stop everything from getting mixed up and allow little ones to graze, picking and choosing as they go along! It also allows for a lot more variety in their lunchbox.
Check out our Picnic blog section for some great snack ideas for kids!  Also we offer some more lunch box ideas in our lunch totes review page.
Quickly before we go into recommending picnic seating here are quick links to our other picnic essentials on the site.  If you have all these you are sure of the perfect picnic!
Can you think of another essential picnic items I need to include? If so drop me a line in the comments.
Latest posts by Alexandra
(see all)
Last update on 2023-12-03 / Affiliate links / Images from Amazon Product Advertising API
This product presentation was made with AAWP plugin.