Guide to the Lay-Z-Spa Vegas: Pros and Cons, User Experiences & More
Imagine a long day at work, your muscles are aching, and all you want to do is relax. Imagine coming home to your Lazy Spa Vegas, a haven of tranquillity and relaxation.
This inflatable hot tub is not just a luxury item but a ticket to a stress-free lifestyle. With its unique features and affordable price, it stands out in the market, offering a spa experience right in your backyard.
But is this the right inflatable hot tub for you? Read our ultimate review of the Lazy Spa Vegas to make an informed decision.
Lazy Spa Vegas Product Overview – Features & Benefits
The Lazy Spa Vegas is a great inflatable hot tub that combines affordability, comfort, and durability. This hot tub is designed to comfortably accommodate up to six people, making it ideal for family gatherings or a relaxing evening with friends.
Constructed with Duraplus material, the Lazy Spa Vegas is robust and resilient. This material is known for its puncture-resistant properties, ensuring that your hot tub withstands the test of time and regular use. The I-Beam construction further enhances the hot tub's structural integrity, which maintains the shape and stability of the hot tub, even when the sides are pressed or leaned on.
One of the standout features of the Lazy Spa Vegas is its rapid heating system. This system quickly warms the water to your desired temperature, allowing you to dive into a soothing spa experience in no time. The hot tub also has a Lay-Z-Massage system and 140 AirJet bubble jets, providing a rejuvenating hydrotherapy experience. These features melt away stress and tension, leaving you feeling relaxed and refreshed.
The Lazy Spa Vegas also boasts a digital control panel for easy operation. This user-friendly interface allows you to adjust the settings effortlessly, ensuring the perfect spa experience tailored to your preferences.
Despite its robust features and durable construction, the Lazy Spa Vegas is straightforward to set up. It requires no professional installation or tools, making it an ideal choice for first-time hot tub owners.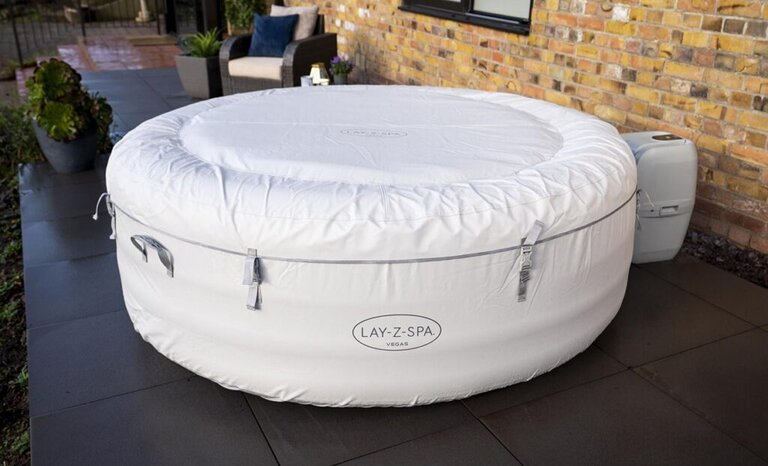 To top it all off, the Lazy Spa Vegas has a reinforced cover with safety clips. This cover helps retain heat when the hot tub is unused and protects it from debris and weather elements.
In summary, the Lazy Spa Vegas is a well-rounded inflatable hot tub that offers a perfect blend of comfort, durability, and affordability. Whether you're a first-time buyer or looking to upgrade your current hot tub, the Lazy Spa Vegas is worth considering.
Pros & Cons of Lazy Spa Vegas:
| Pros | Cons |
| --- | --- |
| Affordable | It comes with a warranty |
| Easy to set up | Requires regular cleaning |
| Comfortable for up to six people | It takes time to heat up |
| Comes with a warranty | Limited premium features |
See the Lazy Spa Vegas In Action
Lazy Spa Vegas Set-up & Maintenance
Setting up the Lazy Spa Vegas is a straightforward process that requires no special tools or expertise. With an easy inflation process that takes under 5 minutes, you'll be ready to fill it with water in no time. The hot tub has a comprehensive instruction manual, and plenty of online resources are available to guide you through the set-up process.
Once set up, it's essential to consider the operation and maintenance of your Lazy Spa Vegas. A common question among owners is whether always to leave the hot tub on. While leaving it on ensures the water stays warm and ready for use, it can lead to increased energy consumption and higher utility bills. To balance convenience and energy efficiency, consider establishing a schedule based on your usage patterns, using the insulated cover when unused, and maintaining regular maintenance routines.
The heating time for the Lazy Spa Vegas is efficient, with the water heating up at 1-2 degrees Celsius per hour. To enhance this efficiency, consider starting with hot water, using an insulating cover, and investing in a rapid heating system if you prefer a faster heating experience.
Maintaining clean and hygienic water in your Lazy Spa Vegas is crucial. Regular chlorine treatment, using 2-3 chlorine tablets for a Lay-Z-Spa Vegas hot tub, helps control bacteria and algae growth. Maintaining the water's pH balance and alkalinity levels is vital for optimal water quality. Regular water testing using test kits can help monitor these levels and adjust the chemical levels accordingly.
Setting up and maintaining your Lazy Spa Vegas is a simple process. Regular maintenance and proper usage allow you to enjoy a safe and enjoyable hot tub experience.
User Experience
The Lazy Spa Vegas is a popular choice among users, with an average rating of 4.5/5 on Amazon UK. Users often highlight the high build quality and ease of set-up as standout features. However, to provide a more comprehensive overview of user experiences, let's delve into some real-life reviews from Lazy Spa Vegas customers here.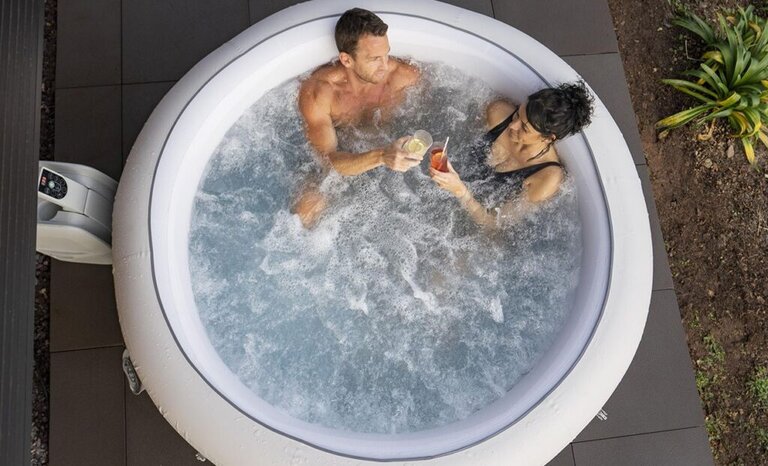 Lazy Spa Vegas Hot Tub Pricing – Is it Value for Money?
The Lazy Spa Vegas is excellent value for money, and it offers a luxurious spa experience at a fraction of the cost of other models. It's ideal for families on a budget or first-time buyers who want the features associated with this trusted brand.
Comparison Table with Other Best-Selling Lazy Spa Models
| | Lazy Spa Ibiza | Lazy Spa Paris | Lazy Spa Palm Springs | Lazy Spa Vegas | Lazy Spa Milan | Lazy Spa Maldives |
| --- | --- | --- | --- | --- | --- | --- |
| Capacity | 6 Person | 6 Person | 6 Person | 6 Person | 6 Person | 7 Person |
| Massage System | 140 AirJet | 140 AirJet | 140 AirJet | 140 AirJet | 140 AirJet Plus | 8 HydroJet & 180 AirJet |
| Size (Inflated) | 1.80 m x 1.80 m x 66 cm (71″ x 71″ x 26″) | 1.96 m x 66 cm (77″ x 26″) | 1.96 m x 71 cm (77" x 28") | 1.96 m x 61 cm (77" x 24") | 1.96 m x 71 cm (77" x 28") | 2.01 m x 2.01 m x 80 cm (79″ x 79″ x 31.5″) |
| Shape | Square | Round | Round | Round | Round | Square |
| Colour | Blue | White | Beige | White | Blue | Brown |
| Year Round Use | ✓ | ✓ | ✓ | ✓ | ✓ | ✓ |
| Wi-Fi Control | X | X | X | X | ✓ | X |
| LED Lighting | X | ✓ | X | X | X | ✓ |
Final Verdict on the Lazy Spa Vegas
The Lazy Spa Vegas is an excellent investment for an affordable, easy-to-install, and feature-packed inflatable hot tub. It's perfect for families, first-time buyers, and anyone looking for a spa experience at home.
Have you experienced the Lazy Spa Vegas? Share your experiences in the comments below. If you have any questions, feel free to ask. Let's make this a community of Lazy Spa Vegas enthusiasts!
Latest posts by Alexandra
(see all)