Why a Hybrid BBQ the Perfect Choice for Your Outdoor Cooking
Looking to take your outdoor cooking game to the next level? A dual-fuel BBQ could be just what you need, especially when you understand the benefits of a hybrid BBQ.
With the convenience of gas grilling and the flavour of charcoal cooking, these versatile appliances offer the best of both worlds.
In this blog post, we'll delve into the benefits of a hybrid BBQ, exploring its many pros and why they might be the perfect addition to your outdoor cooking arsenal.
Hybrid BBQs have revolutionised the outdoor cooking experience by allowing grillers to enjoy the best of both worlds.
With the ability to switch between gas and charcoal cooking, these grills offer the convenience and speed of gas cooking with the smoky flavour and traditional cooking experience of charcoal grilling.
Whether you are a seasoned griller or a beginner, a hybrid BBQ can take your outdoor cooking to the next level. This blog post will explore the many benefits of a hybrid BBQ and the options available today.
Then you will be ready to fire up the grill, grab a cold drink, and get started!
What is a Hybrid BBQ?
A hybrid BBQ is a versatile appliance that combines the best gas and charcoal grilling methods.
It typically features two cooking chambers – one for gas and one for charcoal – which can be used simultaneously or independently, allowing you to switch between the two cooking methods as needed.
With a hybrid BBQ, you have the convenience and ease of gas grilling combined with the rich, smoky flavour of charcoal cooking.
This section will explore what makes a hybrid BBQ different from traditional gas or charcoal grills and why it might be the perfect addition to your outdoor cooking setup.
Benefits of a Hybrid BBQ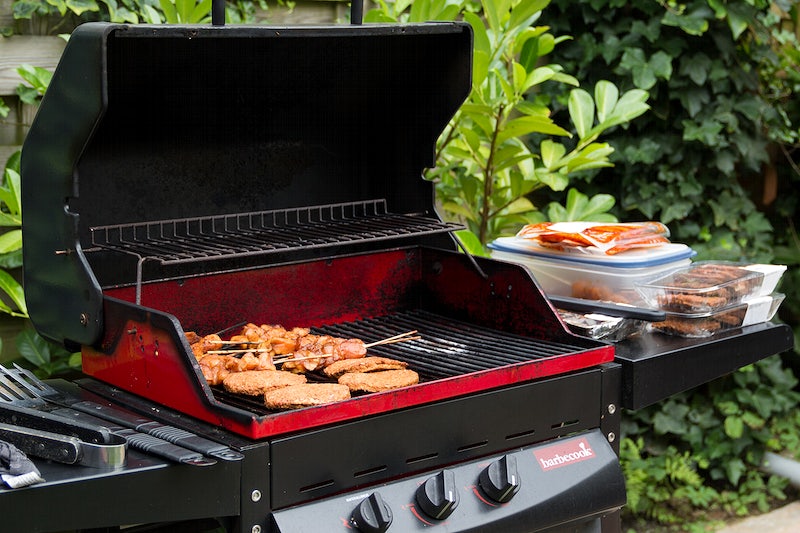 If you're an avid grilling enthusiast, you may wonder what benefits a hybrid BBQ can offer. The answer is simple: versatility, convenience, and efficiency.
With a hybrid BBQ, you can use gas and charcoal cooking methods, which means you can easily switch between the two depending on your specific cooking needs.
This allows you to cook various foods and experiment with different flavours and techniques. Additionally, hybrid BBQs are incredibly convenient, eliminating the need for separate gas and charcoal grills.
And finally, hybrid BBQs are typically more efficient than traditional grills, as they use less fuel and can maintain consistent temperatures for extended periods.
Versatility in Cooking
A hybrid BBQ provides the versatility of cooking with gas and charcoal, allowing you to enjoy the benefits of both worlds.
Charcoal grilling is ideal for achieving that smoky flavour and sear marks, while gas grilling offers precise temperature control and convenience.
With a hybrid BBQ, you can switch between gas and charcoal depending on your mood or the dish you're cooking, giving you the flexibility to create various dishes with different cooking methods.
Whether grilling burgers, smoking ribs, or roasting a whole chicken, a hybrid BBQ can easily handle it.
Top Hybrid BBQ Brands
Looking for a hybrid BBQ that suits your needs can be daunting with the many brands available.
Two of the most popular hybrid BBQ brands are Weber and Char-Broil, which offer a range of models to suit various budgets and preferences. The Weber Summit Charcoal Grill is one of the top-rated hybrid BBQs on the market, featuring a gas ignition system and a charcoal cooking chamber.
It also includes a built-in temperature gauge and a large cooking surface area. Another popular option is the Char-Broil Gas2Coal Hybrid Grill, which lets you switch between gas and charcoal cooking. It's compact size, and affordable price make it an attractive option for many outdoor cooking enthusiasts.
Other notable hybrid BBQ brands include the Napoleon Rogue R425SBPSS Hybrid Grill, which features a gas grill and a charcoal tray, and the CosmoGrill Deluxe 4+1 Gas Burner Grill, which includes a side burner and a charcoal smoker.
Both options are available on Amazon and have received high customer ratings.
Regarding hybrid BBQs, it is essential to consider your cooking needs, budget, and preference to select the perfect grill that meets your outdoor cooking requirements.
Conclusion
In conclusion, combining the benefits of gas and charcoal cooking, a hybrid BBQ can provide a versatile and efficient grilling experience.
Switching between the two fuel sources allows for greater flexibility in cooking while also providing the unique flavour and experience that each fuel type offers.
If you want a top-of-the-line hybrid BBQ, we recommend the Weber Summit Charcoal Grilling Center, which offers the best of both worlds with its gas ignition and charcoal cooking capabilities.
The Char-Broil Gas2Coal Hybrid Grill is a great choice for a more budget-friendly option, allowing for an easy transition between gas and charcoal cooking without breaking the bank.
Ultimately, the best hybrid BBQ for you will depend on your individual preferences and needs. When deciding, we recommend considering factors such as price, size, fuel source, and additional features.
Whichever hybrid BBQ you choose, you can be sure that you will be able to enjoy the benefits of both gas and charcoal cooking in one versatile appliance. We hope you enjoyed our blog on The Benefits of a Hybrid BBQ: Why It Might Be the Best of Both Worlds; please feel free to ask any questions.
Related articles and links on BBQs
Latest posts by Scott Watson
(see all)
Last update on 2023-12-03 / Affiliate links / Images from Amazon Product Advertising API
This product presentation was made with AAWP plugin.