Maximising Your Outdoor Events: The Best Times to Use a Pop-Up Gazebo for Weather Protection, Versatility, and Portability
Hello, outdoor enthusiasts and event planners! Do you often find yourself stressing over unpredictable weather ruining your outdoor gatherings?
Look no further, as pop-up gazebos might be your perfect solution. These portable, easy-to-set-up shelters are a versatile and reliable choice for all your outdoor events.
But when is the best time to use a pop-up gazebo, and why is it such a valuable addition to your outdoor gatherings?
In this article, we'll discuss the best time to use a pop-up gazebo, recommend some options based on weather conditions, and highlight the benefits of these great shelters. So, let's dive in!
Weather Protection
We all know the weather can be unpredictable, so pop-up gazebos are an excellent choice to ensure your outdoor events run smoothly. These clever, affordable outdoor shelters protect you and your guests from rain, wind, and sun, making them ideal for any gathering.
To secure everything, consider investing in a sturdy metal pop-up gazebo with gazebo weights for those windy days.
And if rain is a concern, a waterproof pop-up gazebo with sides will keep everyone dry and comfortable.
Carry on reading for our best-buy gazebos for each weather condition
Versatility and Year-Round Use
One of the most significant advantages of pop-up gazebos is their versatility. These garden shelters can be used all year round for various outdoor events, from garden barbecues to beach parties, music festivals, and corporate gatherings.
In addition to their adaptability, pop-up gazebos come in various sizes and styles, allowing you to choose one that fits your event's specific needs. You can have small bbq gazebos up to large party tents for a great price from places like Amazon.
Don't forget to use gazebo side curtains or other accessories (fairy lights, tables & chairs, picnic blankets etc.) to customise your sun shelter and create a unique guest experience.
Portability and Ease of Use
Pop-up gazebos are known for their portability and ease of use. Their lightweight and compact design (often in a bag with wheels) makes transportation a breeze, whether in a car, van, or public transport.
Setting up and taking down a pop-up gazebo is quick and hassle-free and can often be done by just one or two people in minutes. This allows you to focus on your event instead of worrying about erecting some massive events marquee or outdoor shelter.
Durability
You want a durable and long-lasting shelter or party tent when planning outdoor events. That's where pop-up gazebos excel.
Made with sturdy frames (aluminium or steel) and robust materials (Canvas, PVC/double stitching), they can withstand various weather conditions and provide reliable shelter for years with proper care and maintenance.
I think it's safe to say that you get the quality and durability you pay for with pop-up gazebos with sides and all other shelter types. So if you want to use your gazebo year-round, consider investing in a robust metal gazebo or putting in a permanent wooden gazebo for a garden.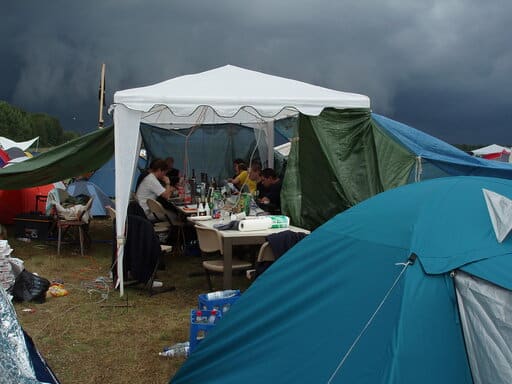 Perfect Gazebo For The Weather
| Weather Condition | Recommended Pop-up Gazebo | Reason for Recommendation |
| --- | --- | --- |
| Rain | All Seasons Waterproof Pop-up Gazebo | This waterproof pop-up gazebo is perfect for rainy conditions because its 260g PVC-coated polyester roof prevents water from seeping through. The fully taped seams and sturdy frame ensure guests stay dry during your event. Its sidewalls also provide extra protection against the rain. |
| Wind | MCC Heavy Duty Steel Pop-up Gazebo | This heavy-duty steel pop-up gazebo is ideal for windy conditions, thanks to its robust steel frame that provides extra stability. The gazebo has guy ropes and ground pegs to anchor it during strong winds securely. The removable side panels can be used to shield against wind gusts. |
| Sun | Coleman Event Shelter Pro | This pop-up gazebo is ideal for sunny weather due to its UVGuard fabric that offers UPF 50+ sun protection. The airy and open design of the gazebo provides ample shade while allowing for air circulation, keeping your guests cool and comfortable on hot days. |
| Cold | Garden Gear 3x3m Pop-up Gazebo with Sides | This pop-up gazebo has sides, offering a sheltered space that helps retain warmth in cold weather. The sidewalls can be zipped together, creating a cosy enclosed area that protects against drafts and chilly temperatures. The gazebo is also waterproof, ensuring protection from cold rain or snow. |
| Heat | TOOLPORT ALU DELUXE Pop-up Gazebo | This pop-up gazebo is perfect for hot weather because it features a UV-resistant, waterproof polyester roof that blocks the sun and cools the shaded area. The open, vented design allows maximum airflow, preventing the area from becoming stuffy or overheating during hot days. |
Each recommendation is based on the specific requirements of each weather condition.
Waterproof gazebos protect against rain, while heavy-duty steel gazebos offer stability in windy conditions.
Gazebos with sun protection are perfect for sunny days, and those with sidewalls can create a warm and cosy space during cold weather. Ventilated gazebos provide shade and air circulation for hot days.
Conclusion
Pop-up gazebos are a fantastic addition to any outdoor event, providing weather protection, versatility, portability, and durability. With various styles, sizes, and features, you're sure to find the perfect pop-up gazebo for your needs at a very affordable price.
Here, we recommend various brilliant Pop Up Gazebos and other outdoor shelters.
Whether you're hosting a wedding, festival, corporate event, or backyard barbecue, a pop-up gazebo is an excellent investment that will make your life much easier. Give it a try; we're sure you won't regret it!
We hope you enjoyed our article on the best time to use a pop-up gazebo and why they're a valuable investment for outdoor events. If you have any comments or questions, feel free to drop them in the comment box below. Happy planning!
Latest posts by Alexandra
(see all)