Explore our A to Z of Beach Tent Queries in this comprehensive beach tent guide. It will help you understand better this remarkable, portable sun canopy surpassing the beach umbrella in terms of popularity.
What is a beach tent?
A beach tent is a lightweight, easy-to-carry shelter designed for beach use. It offers a shaded, secure area for relaxing, eating, napping, or changing clothes while enjoying the coastal ambience.
What is a baby beach tent?
A baby beach tent is a smaller variant of a standard beach tent specifically created for infants. These tents are light, compact, and provide excellent UV protection, perfect for shielding your little one from the sun, wind, and sand.
Is a beach tent waterproof?
The particular model and manufacturer determine the water resistance of a beach tent. Some beach tents are made with water-resistant materials, meaning they can endure light rain or ocean spray.
However, most beach tents are not entirely waterproof and shouldn't be used in heavy rain or severe weather conditions.
Make sure to check the product specifications or contact the manufacturer for information on the water resistance of a specific beach tent.
Why use a sun tent?
Utilize a sun or beach tent with a high UPF rating to shield yourself and your family from harmful UV rays. These tents offer a shaded area for relaxation without the concern of sunburn or overheating.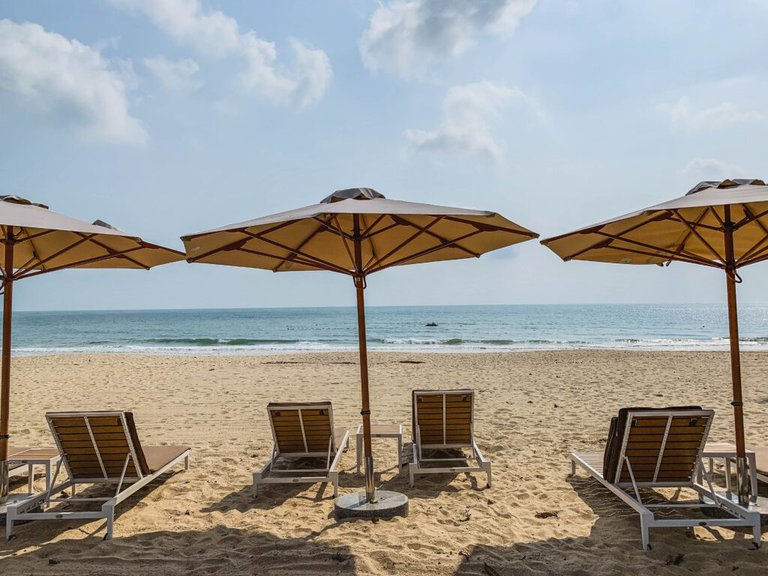 Beach Tent Characteristics & Functionality
Do beach tents get hot?
Although beach tents can heat up under the sun, many are designed with ventilation features like mesh windows to allow air circulation and reduce warmth. Additionally, tents with a high UPF rating can block UV radiation, helping to maintain a cooler interior.
Are beach tents waterproof?
Numerous beach tents have water-resistant materials to withstand light rain or ocean spray. However, not all beach tents are entirely waterproof. Searching for a tent with a high waterproof rating is best if you anticipate heavy rain.
Will my beach tent blow away?
Beach tents are designed for stability and often include stakes or sandbags to secure them against the wind. Nevertheless, ensuring your tent is well-anchored and secured in high winds is crucial.
Can you use a beach tent for camping?
While it's possible to use a beach tent for camping, it's important to note that it is primarily designed for beach use. They might not offer the same protection or durability as a camping tent, especially in adverse weather conditions.
Regulations & Guidelines on Beach Tents
Are beach tents allowed?
Beach tent regulations differ depending on the location, and some beaches permit tents, while others may limit size, type, or placement. Always verify local regulations before setting up a beach tent.
Why are tents not allowed on beaches?
Some beaches enforce tent restrictions to maintain clear sightlines for all visitors, protect local wildlife, or prevent overcrowding. In some regions, large tents may be considered a safety hazard in the event of emergency evacuations.
Transporting Beach Tents
Can I bring a beach tent on a plane?
Yes, based on its size and the airline's policies, you can generally bring a beach tent on a plane, either as checked luggage or as a carry-on. However, checking with your specific airline before travelling is always a good idea.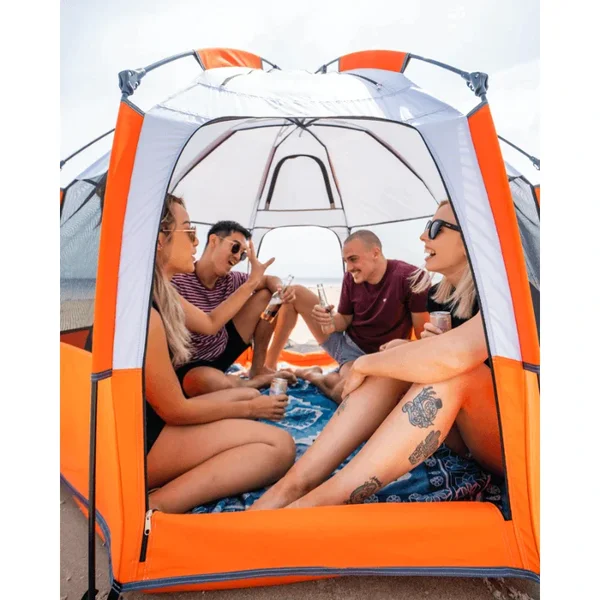 Beach Tent Suggestions
Which beach tent is the best?
What is the best beach tent for babies?
The Monobeach Baby Beach Tent is a top choice for infants due to its excellent UV protection, pop-up design, and built-in mini pool feature
Purchasing a Beach Tent
Where can I buy a beach tent?
Beach tents are at various retailers, including outdoor sports stores, department stores, and online marketplaces like Amazon.
Where can I buy a beach tent near me?
To locate a nearby retailer selling beach tents, try using a search engine and typing "buy beach tent" along with your location. Many large retailers like Decathlon or Argos also offer a store locator feature on their websites. I recommend AMAZON for pop-up beach tents as well.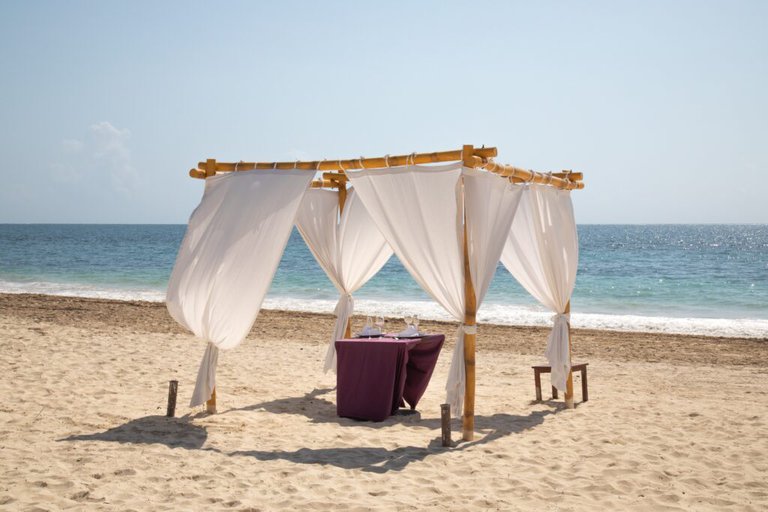 Using a Beach Tent
How do I fold a beach tent?
Folding a beach tent typically involves collapsing the poles, folding the tent material inward, and rolling it tightly before securing it with straps or placing it in a carry bag. However, the exact method may vary depending on the tent model, and it's best to refer to the manufacturer's instructions for specific guidance.
How do I close a beach tent?
Closing a beach tent usually involves removing sand or debris, zipping up doors or windows, and following the folding process. Again, refer to the instructions provided with your beach tent for specific steps.
Comprehensive Beach Tent Guide
These beach gazebos or sun canopies are outstanding accessories for any beach excursion. They offer protection, privacy, and cosy, relaxing space, making your beach day even more enjoyable. Whether you're a lone sun-seeker, a family with children, or a group of friends, a beach tent caters to your needs.
So why not give it a try on your next beach day?
Please let us know in the comments below if you have any more questions to add to our comprehensive beach tent guide.
Latest posts by Alexandra
(see all)