Every successful beach picnic starts with the right gear, and here is our complete, essential beach picnic gear checklist.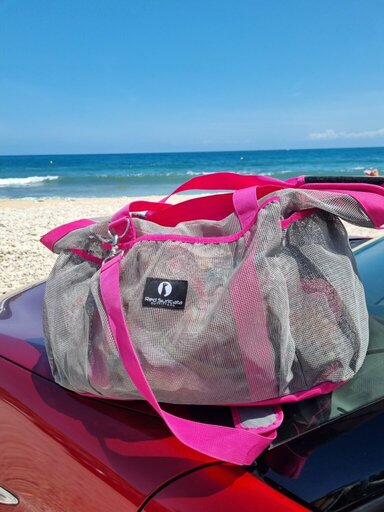 It's 25 must-haves for beach picnic day trips that take the stress, hassle and sand out of seaside picnic fun.
Essential Beach Picnic Gear Checklist
Beach Trolley: The Beau Jardin Beach Cart is a sturdy and spacious option to carry all your picnic essentials from your car to your picnic spot. It's easy to manoeuvre and saves you from having heavy bags.
Beach Tent: The Wolfwise Pop-Up Beach Shelter provides a shady spot for your picnic and a refuge from the wind. It's easy to set up and pack away, making it a convenient shelter solution. A baby beach tent will serve you well if you have a baby. For our full review of the best beach tents and sun canopy, click here.
XL Waterproof Picnic Blanket With Sand Backing: A large beach rug is perfect for keeping the sand out of the sandwiches and drying off from swimming or sunbathing.
A Beach Bag: A good beach bag is essential to carry your items like keys, phone, wallet, and any other valuables. For me, it's got to be huge, fit everything in and NOT BRING HOME SAND – so I recommend the very cool; it comes in heaps of colours, Red Suricata Mesh Beach Bag. / huge pockets, one waterproof pouch, a deep main bag that fits all your swimmers, goggles, towels, and…
Suncream: Protect your skin with a high SPF like Nivea Sun Protect & Moisture SPF 50. It's essential to reapply throughout the day to maintain protection.
Bug Spray: Keep pesky insects at bay with a reliable bug spray like Jungle Formula Maximum Aerosol Insect Repellent. This will help keep your picnic area comfortable and bug-free.
First Aid Kit: Accidents can happen, so having a Compact First Aid Kit on hand is always wise. It should include band-aids, antiseptic wipes, tweezers, and any personal medication that might be needed.
Coolbag: A good cooler bag will keep your food and drinks chilled, especially for perishable items. Look for one that's easy to carry and has enough space for all your picnic goodies. I am a massive fan of the Red Surricata Collapsible Cooler Bag.
Reusable Water Bottles: Staying hydrated is crucial, especially on hot days. Bring plenty of water in reusable bottles to reduce plastic waste.
Picnic Basket or Cool Bag Rucksack: A picnic basket or a good-sized picnic backpack is essential for carrying your food, and it should be sturdy and large enough to hold all your picnic items.
Food Storage Containers: Invest in good quality, leak-proof food storage containers, which will keep your food fresh and prevent spills.
Cutlery and Plates: Opt for reusable cutlery and plates to minimise waste. There are plenty of lightweight, durable options available that are perfect for picnics like this bamboo picnic shop.
Napkins or Paper Towels: These are always handy for cleaning up spills or wiping hands.
Rubbish Bags: Remember to leave no trace behind. Bring a bin bag to collect all your rubbish correctly.
Beach Chairs: If you prefer not to sit on the ground, portable beach chairs are a great option. They are lightweight and often fold down for easy transport.
Beach Umbrella: A beach umbrella can provide shade, especially for those extra sunny days. Should you have one AND a beach tent? As a family of redheads, we have as much shade as possible, and I use our sun brolly as a windbreaker too!
Beach Toys and Games: Don't forget to bring along some fun activities and beach games! Beach balls, frisbees, and sandcastle-building tools are great for kids. For adults, consider games like beach volleyball or badminton.
Waterproof Bluetooth Speaker: If you enjoy music, a waterproof Bluetooth speaker can set the mood for your beach picnic. Just remember to keep the volume at a respectful level for other beachgoers.
Oversized Beach Towels: Always bring extra towels. They're not just for drying off after a swim but can also be used as a cushion or a wrap for warmth if the weather turns chilly.
Change of Clothes: It's always a good idea to change clothes, especially if you plan on swimming. Don't forget extra socks!
Wet Wipes: These are great for quickly cleaning hands and faces before and after eating.
Insulated Flask: If you're a fan of hot drinks, an insulated Thermos flask or a Hydroflask can keep your tea or coffee hot for hours.
Portable BBQ: These can be a great idea if you plan to cook on the beach – you can find charcoal or gas Portable Barbecues. Just be sure to check if BBQs are allowed on your chosen beach.
Swimwear and Beach Shoes: Don't forget your swimwear and beach shoes if you plan to swim. Water shoes can protect your feet from sharp shells or rocks.
Sunglasses and Hats: Protect your eyes and face from the sun with sunglasses and a wide-brimmed hat.
Remember, planning is the key to a successful beach picnic, and that's where our essential beach picnic gear checklist comes in. Please print off the list and double-check it before you leave. You can have a relaxing and enjoyable beach picnic with the proper preparation.
Did we miss anything from our essential beach picnic gear checklist – let us know in the comments box below.
Latest posts by Alexandra
(see all)