Expert Tips for Easy Assembly and Safe Use of a Pop-Up Gazebo
Are you planning an outdoor event and looking to set up your pop-up gazebo? But do you know how to do it, or are you one of those people (like my hubby) who will tip everything out and not follow the instructions?
Whether you're hosting a wedding, festival, or corporate event, a pop-up gazebo can provide much-needed shelter and comfortable space for your guests.
However, setting it up can be challenging if you don't know where to start. In this step-by-step guide, we'll walk you through setting up your pop-up gazebo, from selecting the right location to securing it safely.
Following these instructions and tips, you can ensure that you set up your pop-up gazebo quickly, easily, and securely for your event.
Preparing for Set Up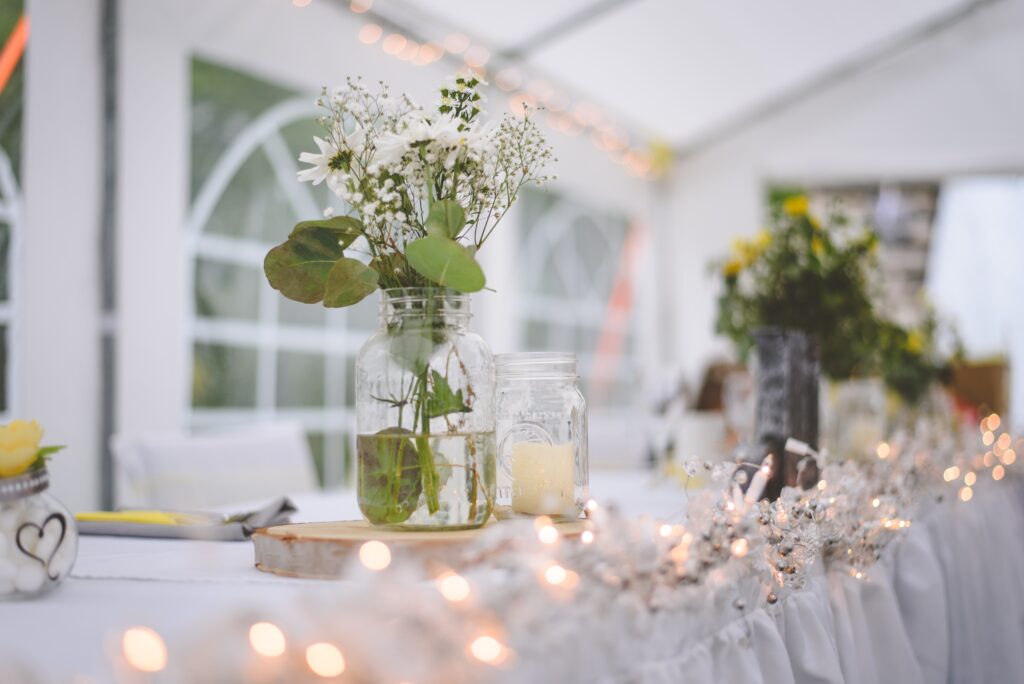 Before you set up your pop-up gazebo, it's essential to prepare your outdoor space and gather all the necessary tools and equipment.
Start by choosing a flat and level area for your gazebo, free of debris and obstacles. Check the weather forecast to ensure conditions are suitable for setup and have a backup plan in case of inclement weather.
Gather all the tools and equipment required for setup, including the gazebo itself, stakes or weights for anchoring, and any additional accessories such as sidewalls or lighting.
Assembling The Frame
Assembling the frame is the next step when you set up your pop-up gazebo. Follow these steps to ensure a smooth and efficient assembly:
Lay out all the parts and ensure you have everything you need.
Unfold the frame and expand it until it locks into place (or click the elements in place if you have a budget gazebo)
Secure the frame joints using the provided locking mechanisms.
Check that the frame is level and adjust the legs as necessary.
Attach any crossbars or braces to reinforce the frame.
Remember to refer to the manufacturer's instructions for specific assembly steps or precautions.
Need a quick and straightforward pop-up gazebo that a single person can even set up – here are my favourites:
Sale
Garden Vida 2.5×2.5m Pop Up Gazebo No Sides Garden Party Tent Steel Legs Water Resistant Roof Event Shelter, Grey
Durable Construction: The pop up gazebo with sides features a sturdy steel frame with a weather-resistant powder coating that ensures long-lasting durability. The gazebo is made from high-quality polyethylene material making it the perfect fit for your garden.
Spacious Design: Measuring 2.5 x 2.5 meters, this gazebo offers ample space for outdoor activities such as dining, entertaining or relaxing. The large surface area can accommodate a sizeable group of people, making it perfect for hosting events or family gatherings.
Attaching The Canopy
To attach the canopy, first, locate the four corners of the canopy and position them over the corresponding corners of the frame.
Secure the canopy to the frame using the Velcro straps or clips provided. Make sure the roof is evenly tensioned and adjust it as necessary. This might require a helping hand, but you can do this alone most of the time.
If your gazebo has sidewalls, attach them using the same method as the canopy before you extend the legs to make them full height. It's vital to ensure all sides are securely attached and adequately tensioned to prevent any flapping or movement in the wind.
Securing The Gazebo
To ensure the stability and safety of your pop-up gazebo, it's crucial to secure it in place properly. Here are some steps to follow:
Use stakes or weights: Most pop-up gazebos come with stakes that can be used to secure the structure to the ground. Alternatively, you can use weights such as sandbags or water weights.
Attach guy ropes: Guy ropes can help keep the gazebo stable in windy conditions. Attach the guy ropes to the top of the gazebo and secure them to the ground using stakes.
Here are some products from Amazon UK that can help secure your pop-up gazebo:
Properly securing your pop-up gazebo ensures your outdoor event is safe and enjoyable.
Final Adjustments
Once your pop-up gazebo is assembled and secured, it's time for many final adjustments.
Start by checking that the frame is level and stable. Then, adjust the height of the legs if necessary to ensure that the canopy is at the desired height.
Finally, you may consider adding accessories to your gazebo, such as sidewalls, lighting, or flooring, to enhance its functionality and appearance.
Check out these popular accessories to take your pop-up gazebo to the next level:
Following these steps and adding some accessories, the set up your pop-up gazebo is complete, and you have the perfect shelter for your next outdoor event.
We hope you enjoyed our blog on How to Set Up Your Pop-Up Gazebo: A Step-by-Step Guide, and if you have any questions, please feel free to ask in the comments section below.
Latest posts by Scott Watson
(see all)
Last update on 2023-12-03 / Affiliate links / Images from Amazon Product Advertising API
This product presentation was made with AAWP plugin.