Your Comprehensive Guide to Planning the Perfect Beach Picnic
There's nothing quite like a beach picnic — the sun, the sand, the sound of the waves, and the food. But planning a beach picnic requires more thought than your average picnic in the park.
From what to pack to what to eat, we've covered you with my ultimate guide to beach picnics.
1. Essential Beach Picnic Gear – What to Take On A Beach Picnic
Every successful beach picnic starts with the right gear. Here are some must-haves for your beach picnic:
Click to download the entire 25-point ultimate beach picnic checklist.
Remember, the key to a successful beach picnic is planning. Make a checklist of everything you need and double-check it before you leave. You can have a relaxing and enjoyable beach picnic with the right preparation.
Carry on reading our ultimate guide to beach picnics for our yummy, scrummy new picnic foods recipes.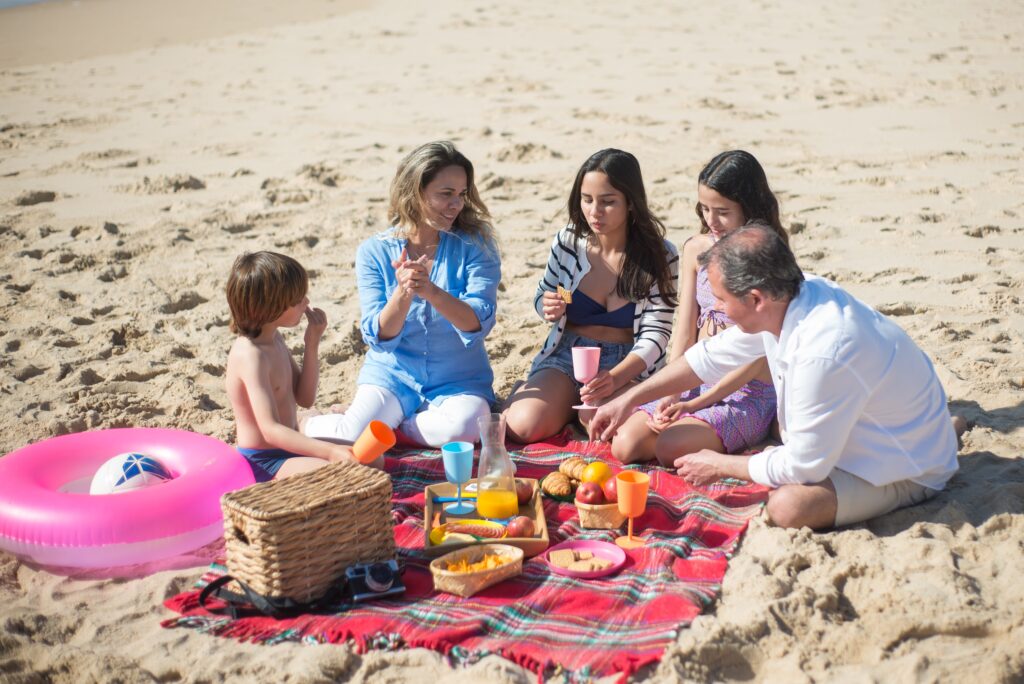 2. The Perfect Beach Picnic Menu
When it comes to food for a beach picnic, think fresh, easy, and heat-resistant. Sandwiches are a classic choice, and you can cater to various dietary preferences with different fillings. Fresh fruits and veggies are also a great option, as they're refreshing and don't require any preparation on-site. Consider refreshing options like infused water, iced tea, or lemonade for drinks.
Don't forget about the kids and those with dietary restrictions. Pack some kid-friendly snacks like cheese cubes and fruit slices, and consider including some vegan options like hummus and veggie wraps.
Planning the perfect beach picnic menu involves creating a selection of dishes that are not only delicious but also cater to various dietary preferences. Here are some fantastic recipe ideas:
Sandwiches: Sandwiches are a picnic staple, offering various options for everyone.
Italian Pressed Sandwich: This classic sandwich is filled with ham, salami, and provolone cheese, making it a hearty option. It's easy to prepare and perfect for a beach picnic.
Vegan Rainbow Vegetable Sandwich: This vegan-friendly option is packed with fresh vegetables and hummus, making it a healthy and colourful choice.
Peanut Butter and Jelly Sushi Rolls: These fun sushi-style rolls are a hit with kids. They're made with peanut butter and jelly, rolled up in bread.
Salads: Opt for salads that can withstand the heat and taste great.
Greek Pasta Salad: This salad contains flavours from olives, feta cheese, and a tangy vinaigrette.
Vegan Quinoa Salad with Fresh Vegetables: This vegan salad combines quinoa and fresh vegetables with a simple lemon vinaigrette.
Kid-Friendly Pasta Salad: This pasta salad is a hit with kids, featuring fun shapes and a creamy dressing.
Snacks: Fresh fruits, vegetable sticks, and dips are great for snacking.
Homemade Trail Mix: This mix of nuts, dried fruit, and chocolate is a perfect snack.
Vegan Veggie Pinwheels: These colourful pinwheels are filled with fresh veggies and a flavorful spread.
Fruit and Cheese Kabobs: These Kabobs are a fun and healthy snack for kids, featuring a mix of their favourite fruits and cheese.
Drinks: Keep everyone hydrated with plenty of water and some homemade beverages.
Homemade Lemonade: This classic lemonade recipe is refreshing and easy to make.
Vegan Iced Tea: This vegan-friendly iced tea is a perfect thirst quencher for a hot beach day.
Kid-Friendly Fruit Punch: This fruity punch is a hit with kids and is easy to make in large batches.
Desserts: Easy-to-eat desserts like cookies or fruit skewers are perfect for a beach picnic.
Classic Chocolate Chip Cookies: These cookies are a classic dessert everyone loves. They're easy to pack and delicious to eat.
Vegan Fruit Skewers: These vegan-friendly fruit skewers are a refreshing and healthy dessert option.
Kid-Friendly Cookie Dough Bites: These cookie dough bites are a hit with kids. They're bite-sized and easy to eat, making them a perfect beach picnic dessert.
Remember, the key to a successful beach picnic is to prepare foods that are easy to eat, withstand the beach heat, and cater to everyone's dietary preferences. Enjoy your beach picnic!
3. Beach Safety
Safety is an important consideration for any beach outing. Sun protection is key, so consider packing a beach tent or umbrella for shade in addition to suncream. Special beach tents are also available for babies and young children, which provide extra protection.
A first aid kit is a must for dealing with minor injuries. Look for a kit that includes band-aids, antiseptic wipes, tweezers (for any pesky splinters), and aloe vera gel for sunburn.
Remember to stay hydrated, especially on hot days. Pack plenty of water and encourage everyone at your party to drink regularly. And, of course, always keep an eye on the sea if you or your party decide to go for a swim.
Here are our top seaside safety tips from our ultimate guide to beach picnics:
Sun Protection: Apply sun cream regularly, wear a hat, and seek shade during the hottest times.
Stay Hydrated: Drink plenty of water to prevent dehydration.
Watch Out for Rip Currents: If you plan to swim, be aware of rip currents and know how to escape them.
First Aid: Have a first aid kit on hand for minor injuries.
Mind the Wildlife: Be aware of potential wildlife like jellyfish or sea urchins and know how to treat them. Ammonia in your pee really can help a sting from a jellyfish and have some tweezers for sea urchin spines. Lifeguards know how to treat all these, so call for help!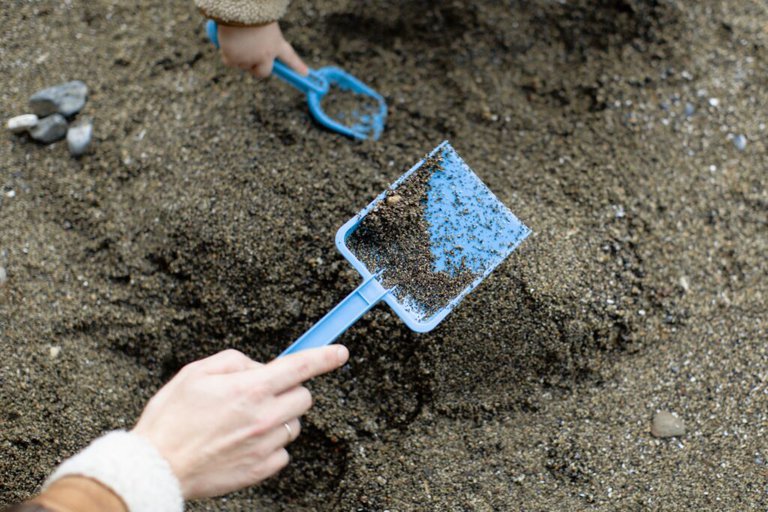 4. Fun Beach Activities
A beach picnic isn't just about the food, so it wouldn't be the ultimate guide to beach picnics with some fun activities to keep everyone entertained:
Beach Games: Besides classic beach games like frisbee, beach volleyball, or paddleball, try new ones. "Beach Bowling" is a great game where you dig holes in the sand for the "pins" and use a beach ball as the "bowling ball". "Beach Tic Tac Toe" can be played by drawing a grid in the sand and using shells and stones as markers. For a group activity, "Tug of War" can be fun on the beach.
Sandcastle Building: This classic beach activity never gets old. Challenge each other to build the tallest sandcastle, or get creative and try to sculpt a favourite character or object. You could even have a sandcastle-building contest!
Beachcombing: This activity can be both fun and educational. Use an app like Google Lens to identify the different shells, birds, and bugs you find. You could also turn it into a scavenger hunt by listing items to find.
Swimming: If it's safe to do so, a dip in the sea can be a refreshing way to cool off. You could also bring some inflatable toys or pool noodles for fun.
Kite Flying: The beach is a great place to fly a kite, thanks to the open space and steady sea breeze. You could even try some kite tricks or have a kite flying contest.
Photography: The beach offers many beautiful scenes to capture, from the rolling waves to the setting sun. You could have a photography contest to see who can take the best beach photo.
Picnic Games: Bring some board games or card games that can be played on the picnic blanket. Games like Uno, Connect Four, or Checkers can be fun.
Beach Yoga: For a more relaxing activity, try some beach yoga. The sound of the waves can be very calming and help you achieve a deeper level of relaxation.
Remember, the most important thing is to have fun and enjoy your time at the beach!
5. Beach Picnic Themes
1. Nautical Picnic:
Decorations: Embrace the spirit of the sea with blue and white stripes, anchors, and seashells. You can find a variety of nautical-themed decorations like these stickers to add to your picnic setup.
Food: Consider seafood sandwiches, saltwater taffy, and other ocean-inspired dishes.
Dress Code: Encourage guests to wear navy blue, white, or sea-related costumes.
Activities: A treasure hunt or a simple quiz about sea creatures could be fun and educational.
2. Tropical Paradise Picnic
Decorations: Use colourful decorations like flamingos, pineapples, and palm leaves. You can even create a DIY flower crown station, as suggested by Country Living.
Food: Think of tropical fruits, Hawaiian-style skewers, and refreshing drinks like coconut water or pineapple juice.
Dress Code: Encourage guests to wear tropical prints or bright colours.
Activities: A hula hoop contest or a limbo game would keep with the theme.
3. Classic British Seaside Picnic
Decorations: Decorate with a red and white colour scheme, beach huts, and seagulls.
Food: Serve traditional British seaside food like fish and chips. For dessert, consider classic British rock candy or ice cream.
Dress Code: Think classic British summer attire, like straw hats and linen shirts.
Activities: A beach cricket or rounders game would keep with the theme.
Remember, the key to a successful themed picnic is to keep everything consistent with the theme, from the decorations and food to the dress code and activities.
6. Choosing the Perfect Beach Picnic Spot
Here are five amazing beaches across the UK that would make for a fantastic picnic spot:
Bournemouth Beach, Dorset: Known for its seven miles of golden sands and sparkling sea, Bournemouth Beach is a favourite among locals and tourists alike. The beach also offers a range of amenities, including restaurants, cafes, and shops.
Porthcurno, Cornwall: This beach is renowned for its beauty, with turquoise waters and fine white sand. It's more secluded, perfect for a quiet, relaxing picnic.
Rhossili Bay, Swansea: Voted Wales' Best Beach 2018 and 3rd in the UK in the TripAdvisor Travellers' Choice Awards, Rhossili Bay is perfect for surfers, walkers and picnickers.
Woolacombe Beach, Devon: This beach has won numerous awards and is loved by families and surfers. Its long stretches of golden sand and clean waters make it an ideal picnic spot.
Holkham Beach, Norfolk: This beach is part of one of the largest National Nature Reserves in the country, teeming with wildlife and offering stunning views. It's a peaceful spot for a picnic.
When choosing your beach picnic spot, consider the beach's location, facilities, and rules. Look for a spot with shade, preferably near restrooms and fresh water. Always check the beach rules regarding picnics, barbecues, and pets. And most importantly, leave no trace behind to keep these beautiful beaches clean and safe for everyone to enjoy.
7. Essential Beach Etiquette
Well, it's time to wrap up our ultimate guide to beach picnics with some quick tips on how to help EVERYONE have a brilliant day out at the coast. By following these simple rules of beach etiquette and respecting other beachgoers and the environment, you can have a great time:
Keep Noise Levels Down: Be mindful of your noise level, especially if the beach is crowded.
Don't Litter: Always clean up and take all your rubbish.
Respect Wildlife: Don't disturb any animals or birds you might encounter on the beach.
No Feeding Seagulls: It might be tempting, but feeding seagulls can lead to them becoming a nuisance for you and other beachgoers.
A beach picnic is a wonderful way to enjoy the outdoors and spend quality time with loved ones. With some planning and preparation, you can ensure a fun, safe, and delicious day out. So why not start planning your beach picnic today?
With these tips from our ultimate guide to beach picnics, you're well on your way to planning the best trip to the seaside ever! So grab your picnic basket, gather your loved ones, and head to the beach for fun, food, and sunshine. Enjoy!
Latest posts by Alexandra
(see all)