Just a few miles West of Forres, and only 23 miles from Inverness, Brodie Castle Scotland is a jewel in the crown of National Trust, Scotland.  And one of the most fun family friendly places you can visit on Scotland's East Coast. 
Surrounded by forests, picnic spots and over a hundred different species of daffodils in spring, the pink castle is a historical venue both adults and children can enjoy all year round.
So get your picnic hamper ready, and follow me into the wonders of Brodie Castle Scotland.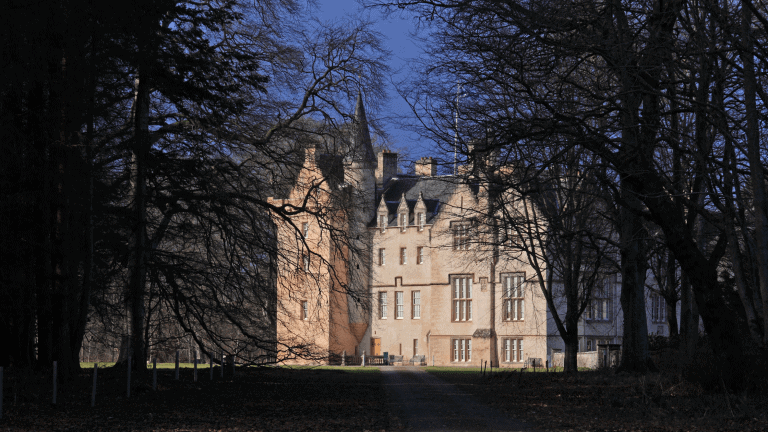 According to popular belief, the Brodie family acquired the land surrounding the castle as early as the 12th century. However, the Z shaped castle you see today was built in 1567. And it had to be rebuilt in 1645 after it was burned by the Royalist Army. 
Since then, the Brodie family has been heavily involved in the local community, from rebelling against Mary, Queen of Scots, in the 16th century to discussing the formation of a United Kingdom with Cromwell in the 17th century. 
In 1980, it was finally taken over by the National Trust of Scotland after centuries of financial difficulties. Which is why today, the Brodie Castle Scotland is so well- preserved.
What you can do at Brodie Castle
Situated between Moray and the Highlands, Brodie Castle oversees acres of rich greenery, walkways, lakes and gardens. And there's plenty to do! 
You can visit Rodney's Stone (is a two-metre high Pictish cross slab) on your way to the Welcome Centre, and walk to Macbeth Hillock where Macbeth learns of his future as King in Shakespeare's play. 
But whether you're going by yourself, with a friend or as a family, there's plenty more to explore at Brodie Castle.
Brodie Castle Adventure Playground
Follow the white rabbits from the car park into Brodie Castle's Playful Garden. This play park is filled with giant mystical characters, xylophones, Scotland's giant bunny, rabbit holes and forts your kids can climb into. And trust me, your children will have such a great time you won't have much trouble putting them to sleep later on.
You could well spend a few hours here while the kids run free and play so make the most of it.  Bring your cooler bag with you, pack a little wine, cheese and nibbles and enjoy some relative peace! I recommend this Polar Gear Family Picnic Cooler Bag which is perfect to keep you and your kids refreshed throughout the day.  If you want a picnic rucksack with picnic set inside check out my tried and tested favourites here
And if you don't want to be overwhelmed by a mountain of bags, go for this Vacuum Insulated Lunch Container. Honestly, I was so happy to find this thermos food flask. It's perfect for day trips and very affordable.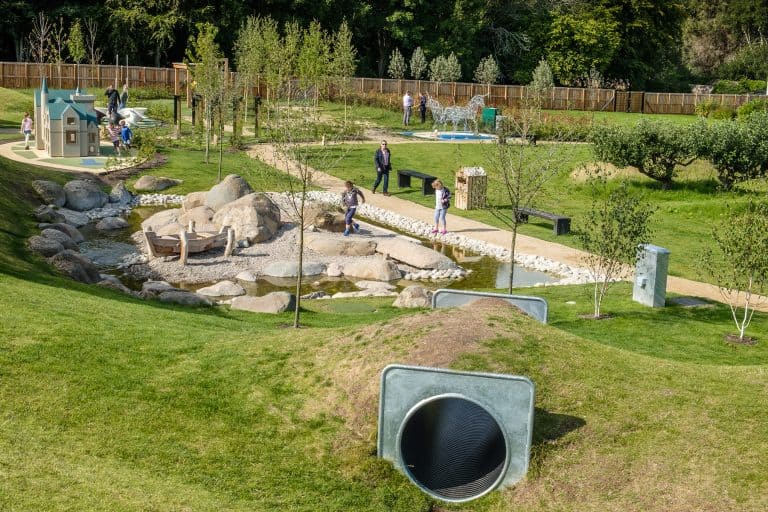 During the day, you can book a tour to visit the inside of the castle, which is famous for its superb interior design. From carved ceilings to very old children's toys and Dutch paintings, the rooms of the castle reflect its numerous architectural influences and its rich history. 
The Victorian style library with its American oak panels was built in the 19th century. And the guard chamber to the side of the arched entrance will give you an idea of what the castle might have looked like in 1567. 
Don't forget to visit the Brodie Castle Tea room on your way out through the Victorian kitchen. And if you want to buy some Scottish National Trust gifts, the National Trust shop is at the back of the castle.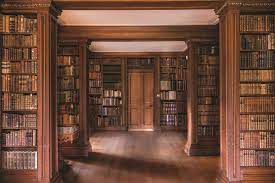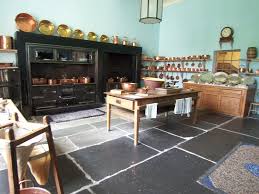 Now that Brodie Castle's café is open again, you can enjoy delicious sweet treats like waffles, sundaes and milkshakes. 
A picnic hamper will be very useful here as there are plenty of picnic tables and benches scattered around the grounds. And this Wrenbury Traditional Willow basket will do just the trick. It's just the right size to bring along on your walks and stop for a special meal with your other half. For our full range of traditional and modern Picnic Hampers click here.
And if you want to go old school, bring along your picnic blanket. The Simpeak picnic rug rolls up into a portable bag. And it's a waterproof picnic rug too. Because remember, this is Scotland we're talking about here. 
Speaking of which, don't forget an umbrella. And make sure it's a sturdy one. Wellington boots and a raincoat won't hurt either as we never quite know when its going to rain in Scotland!
Hiking Trails around Brodie Castle
For the hikers out there, there are a ton of walks you can go on. You can follow the castle's path and observe all kinds of wildlife from woodpeckers to red squirrels! 
A picnic rucksack will be in order here. And I never go on a hike without my Luxury 4 Person Picnic Backpack from Von Shef. It even has a cooler department! But if the luxury aspect puts you off, this Lifewit 24L Soft Cooler Backpack is also a great way to stay organised and keep your coffee from going cold (or hot). 
However a thermos flask like this Thermos Stainless King Flask is also very practical. Not to mention great quality for the price.
You can also head over to the lakes and into the woods where the Brodie family plaques reside. I know, it's a bit morbid. But trust me it's lovely to visit – and you can learn heaps about social history from reading grave stones.
Until the end of August, you can book a tour between 11am and 3pm from Wednesday to Sunday. And the grounds of the castle are open between 10am and 5pm. But you can double-check current timetables on their Brodie Castle Facebook page.
Brodie castle events 2021-2022
A great number of events are hosted at Brodie Castle Scotland including theatre productions, music events, flower festivals and more!  Their Halloween and Christmas events are legendary!
So make sure you stay up to date on Brodie Castle's Facebook page.
Helpful Books for Your Trip
Struggling to keep your kids excited about the UK's most beautiful sites? Or just want to make the most of your visit to Brodie Castle and other great National Trust Scotland sites? Then The National Trust has a variety of children's books that can help you with that. 
Try You Can Have an Outdoor Adventure. This cute little book is like a little guide to playing outside. And with so much wildlife to explore around the castle, Out and About Bird Spotter will introduce them to the wonders of bird watching. And they'll have plenty of that to do at Brodie Castle! 
If you need inspiration for your next trip in the UK, 100 Nature Walks is perfect for nature lovers. Personally, I always refer to Short Walks in Beautiful Places for my summer trips in the country.
FAQs about National Trust Scotland & Brodie Castle
Is Brodie Castle grounds open with Covid issues?
Brodie castle scotland is now open Wednesday to Sunday from 10am to 5pm. You can buy your tickets at the Welcome Centre when you arrive. For more information, visit their Facebook page.
Is Brodie Castle in the highlands?
Situated West of Forres and 23 miles East of Inverness, Brodie is surrounded by Moray countryside, and stands just between the Highlands and Moray.  
When was Brodie Castle Built?
The castle was built in 1567. However, it is believed that one or more castles dating from the 12th century once stood there.
Is Brodie Castle dog friendly?
Brodie Castle Scotland is very dog-friendly. And as long as you keep your dog on a leash, you can walk around the castle grounds, the footpaths, and the lake. You can even ask for water at the café. However, your access to the castle itself will be restricted. 
Is Brodie Castle Scotland your favourite National Trust site in Scotland or do you have another to recommend to our readers? Please comment and let us know your best National Trust Scotland Place for a picnic.
Latest posts by Alexandra
(see all)