Picnic Food Ideas, Romantic Settings, and Fun Facts for your Love-Filled Celebration
Hi there, lovely readers! Get ready to fall in love with Valentine's Day all over again!
Looking for something to make Valentine's Day 2023 special? Why not take them on a romantic picnic filled with love, yummy treats and memories to cherish forever?
Whether you love adventure and the great outdoors or prefer a cosy indoor setting, we've got the perfect picnic ideas for couples.
Let's get planning your romantic picnic and make this Valentine's Day extra unique and unforgettable.
What to Bring to a Valentine's Day Picnic
To ensure your picnic goes off without a hitch, we have a list of must-have essentials and food recommendations to make your day (or night) of love and romance unforgettable.
Essential items for a picnic
Tablecloth or Picnic Blanket
Picnic Plates, Cups/Wine Glasses, Utensils like Cheese Board/ Bottle Opener/ Salt & Pepper/ Napkins (this picnic wear can often come in a Picnic Backpack or Picnic Hamper)
Recommendations for Picnic Food Ideas
Finger foods that are easy to eat
Sweet treats for dessert
Non-alcoholic drinks or champagne!
To ensure your picnic basket or cool box is well-stocked with plenty of yummy treats, read on for some picnic food ideas. A rumbling tummy is not what you want when trying to get all loved up! So don't forget the essentials for a perfect picnic.
Tips on Creating a Romantic Picnic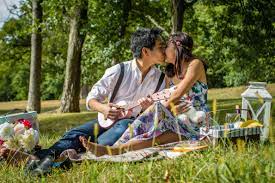 Creating the right Atmosphere and Surroundings
Find a Beautiful or Meaningful Location: Your picnic location can make or break your picnic. Look for a scenic spot with a nice view, whether by a lake, in a park, or even in your back garden. Why not take your Valentine back to where you had your first date or perhaps proposed?
Add Some Mood Lighting: Candles or lanterns can create a warm, romantic feeling and set the mood for your picnic. Make sure to bring enough candles or lanterns to light up the area, but be mindful of fire safety.
Soft Music: Make a playlist (the modern mix tape) of your special tunes to play on a portable speaker. Music is excellent for creating a romantic atmosphere, triggering special memories, or even getting you in the mood to dance!
Add Those Personal Touches
Special Menu Items: Add a personal touch to your picnic by preparing a special menu for your Valentine. This could be a favourite dish or something you've never tried before. (see below for two beautiful romantic picnic menus, including a vegan valentines picnic menu)
Handmade Decorations: Decorate your picnic blanket with handmade decorations, like a homemade tablecloth, a wreath of flowers or a garland. This will make your picnic feel unique and special.
Love Notes or Gifts: Leave love notes or small gifts for your special someone throughout the picnic, whether in their food or the area surrounding the picnic rug. This is a great way to show affection and make the picnic special.
Menu Idea for the perfect Valentines' Picnic:
Starters:
Bruschetta with fresh tomatoes and basil (1)
Charcuterie board with cured meats, cheeses, crackers, and fruit
Main Course:
Grilled chicken sandwiches with avocado and bacon
Quiche with herbs and cheese
Homemade Cornish pasties (2)
Dessert:
Fresh fruit salad with a drizzle of honey
Dark chocolate truffles
Strawberry shortcake with homemade whipped cream
Romantic Vegan Picnic:
Starters:
Roasted garlic hummus with veggies and crackers
Grilled portobello mushroom caps with balsamic glaze
Sweet potato and black bean tacos with salsa
Main Course:
Grilled vegetable paninis with pesto and mozzarella cheese substitute (3)
Lentil salad with a lemon-tahini dressing
Chickpea and avocado sandwiches with sprouts and mustard
Dessert:
Vegan chocolate chip cookies (4)
Fresh fruit skewers with a drizzle of dark chocolate
Vegan fruit sorbet with mixed berries.
Here are a few more great picnic food ideas for a couples picnic:
Sweet Treats:
Strawberry and Champagne Sorbet: Blend strawberries and champagne in a blender and freeze for a delicious and romantic dessert. Serve in individual glasses or bowls.
Sweetheart Brownies: Bake them in heart-shaped pans and decorate them with frosting and sprinkles. These sweet treats are sure to impress your sweetheart!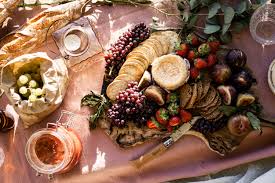 Savoury Ideas:
Caprese Skewers: Alternate cherry tomatoes, mozzarella balls, and basil on skewers and drizzle with balsamic glaze.
Prosciutto-Wrapped Melon: Wrap melon slices with prosciutto and serve as an appetizer or light snack.
Spinach and Feta Stuffed Chicken Breasts: Stuff boneless chicken breasts with a mixture of spinach and feta cheese. Season and bake until cooked through. Serve warm.
Here are five drink ideas for a romantic picnic
Sparkling Fruit Punch: Mix fresh fruit juice with sparkling water, a touch of honey and a splash of lemon juice for a sweet and refreshing drink.
Sweet Iced Tea: Brew a pitcher of tea with your favourite tea bags, sweeten it with sugar or honey and refrigerate until cold. Serve over ice with fresh mint leaves or sliced fruit.
Rose Sangria: Mix red wine with brandy, orange juice, sliced fruit, and a splash of triple sec for a romantic take on a classic sangria.
Strawberry Lemonade: Blend fresh strawberries and lemon juice with sugar, water and a pinch of salt for a sweet and tangy non-alcoholic drink.
Hot Cocoa with a Twist: Warm up with classic hot cocoa, but add a touch of spice with cinnamon or nutmeg or a splash of flavour with peppermint or vanilla extract.
Indoor Romantic Picnic Ideas
What is an Indoor Picnic?
An indoor picnic is a picnic that takes place inside a building rather than outside. This can be a great option if the weather is not ideal or if you're looking for a different type of picnic experience.
Recommendations for Indoor Picnic Locations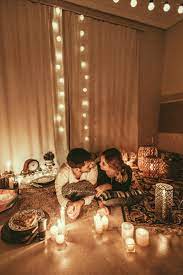 At home – Have a cosy picnic in the comfort of your own home. You can spread a blanket on the living room floor and enjoy a romantic meal together you can even break out the picnic basket!
At a park shelter – If the weather outside isn't great, you can still have a picnic in a park shelter. Look for one that has plenty of natural light and a cosy atmosphere.
At a rental space – Rent a private space, like an Airbnb or a hotel room, and create a romantic indoor picnic atmosphere. Set up a table and chairs, light candles, and enjoy an exceptional meal together.
In a museum, castle or art gallery – Have a cultural picnic in a museum or art gallery. Bring a picnic blanket and enjoy a romantic lunch while admiring the art and exhibits.
In a botanical garden – Visit a botanical garden and have a romantic picnic amongst the flowers and plants. This is an excellent option for those who love nature and the beauty of botanical gardens.
Remember, setting the mood with lighting, music, and special touches is the key to creating a romantic indoor picnic. The more personal and thoughtful you can make your indoor picnic, the more special and memorable it will be for you and your loved one.
We hope this guide to creating the perfect romantic picnic for valentines day will inspire you.
From finding a beautiful or meaningful location to adding personal touches like special menu items, handmade decorations, and love notes or gifts, there are many ways to make your picnic unique and special. To recap, here are our final thoughts and recommendations:
Make sure to find a location with special meaning or a scenic view, and set the mood with romantic lighting such as candles or lanterns and soft music.
Personalise your picnic by creating a special menu, using handmade decorations, and leaving love notes or small gifts.
And make sure to have lots of yummy food to share and nibble on together. Music is the food of love – but let's be honest, FOOD IS MY LOVE FOOD, and that's the same for most women!
FAQS
What is St Valentine's Day?
St. Valentine's Day is a saints festival celebrated on the 14th of February. It all started as a way to honour Saint Valentine, a martyr from the third century.
Over the years, Valentine's day has evolved into a celebration of love and affection shared between sweethearts, besties, and family.
Nowadays, folks around the world exchange Valentine's cards, gifts, flowers, and sweet nothings to show their love and appreciation for one another.
What to bring to a Picnic on Valentine's Day?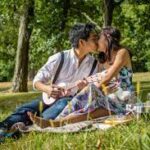 A cosy picnic blanket
Plenty of cushions
A wicker picnic basket filled with yummy treats
Candles or lanterns
Soft music on a portable speaker
Handmade decorations
Love notes or small gifts
What makes a Romantic Picnic?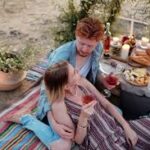 A beautiful and meaningful location
Mood lighting
Soft music
Personal touches like special menu items and handmade decorations
Love notes or gifts to show affection
Fun Facts about Valentine's Day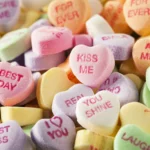 Surprising Trivia and Fun Facts about St Valentine's Day:
Did you know that the first recorded Valentine's Day love letter was sent in 1415 by Charles, Duke of Orleans, to his wife while he was imprisoned in the Tower of London?
In Japan, Valentine's Day is also known as a day when women give chocolates to men. In addition, a special kind of chocolate called 'giri choco' is given to colleagues and acquaintances.
In ancient Rome, the holiday Lupercalia was celebrated on the 15th of February and is believed to have influenced the celebration of St. Valentine's Day.
The world's largest chocolate manufacturer, Barry Callebaut, produces approximately 150 million chocolate hearts for Valentine's Day each year!
References:
(1) – Bruschetta Recipe – BBC FOODS
(2) – Homemade Cornish Pastie – THESPRUCEEATS
(3) – Vegetable Panini – THEGRAZINGGARDENER
(4) – Vegan Choco Cookies – CHOCOLATECOVEREDKATIE
Latest posts by Alexandra
(see all)