Top 10 Scenic Picnic Spots in the UK for Nature Lovers
The great outdoors is a wonderful place to relax and enjoy a picnic surrounded by nature's beauty. The United Kingdom offers an abundance of beautiful picnic locations, from lush green meadows to picturesque lakes and enchanting woodlands.
Picnicking is a timeless activity that never loses its charm and is budget-friendly too! So whether you're looking for a family day out, a romantic date, or some alone time with a good book. Before we delve into the wonders of UK picnic spots, let me introduce myself.
I'm Alexandra, a picnic expert and lover who has spent years planning picnics and outdoor events. I'm here to share my passion and knowledge with you, from finding the perfect picnic basket to discovering hidden spots that take your breath away.
In this ultimate guide, we'll explore the top 10 scenic UK picnic spots that are perfect for family days out. I'll also provide you with a list of picnic essentials to ensure that your outdoor feast is a hit, along with some planning tips and ideas to make your trip a real family-fun day.
Join me on this delightful journey through the UK's most scenic picnic spots. Whether you're searching for "UK picnic spots near me" or planning a special day out, this guide has got you covered
Top 10 Scenic Picnic Spots in the UK
1. Stourhead, Wiltshire, England
Source: National Trust
Description: Stourhead is a breathtaking estate with a magnificent garden, classical temples, and a serene lake. The lush greenery and reflections on the lake create a tranquil atmosphere perfect for a picnic.
What Makes It Special: The landscape is like stepping into a painting, and for family fun, there are enchanting grottoes to explore and wide-open spaces perfect for a game of frisbee or hide and seek.
Facilities: Benches, toilets, and a café are available on the estate.
2. Padley Gorge, Peak District, England
Source: Country Life
Description: Padley Gorge is a deep valley with ancient woods, babbling brooks, and dramatic rock formations. The sound of the streams and the shade from the trees make it an idyllic spot for a picnic.
What Makes It Special: The woodland setting is perfect for imaginative play, and families can enjoy paddling in the streams or going on a nature scavenger hunt.
Facilities: There are no formal facilities, so it's best to come prepared.
3. Mount Stewart, County Down, Northern Ireland
Source: National Trust
Description: Mount Stewart is one of Northern Ireland's grand estates, with opulent gardens and a large lake. The variety of gardens with different themes provides a colourful backdrop for picnics.
What Makes It Special: The estate often hosts family-friendly events, and children will love exploring the magical and whimsical gardens, including the Tir N'an Óg or 'Land of the Ever Young' garden.
Facilities: There is a café, shop, and toilets available.
4. Llyn y Fan Fach, Brecon Beacons, Wales
Source: Visit Wales
Description: Llyn y Fan Fach is a remote, glacial lake nestled among the peaks of the Brecon Beacons. The isolation and the dramatic landscape make it a perfect spot for a peaceful picnic.
What Makes It Special: For adventurous families, the hike to the lake is part of the fun. The area is steeped in legends, and you can tell the kids the story of the Lady of the Lake as you enjoy your picnic.
Facilities: There are no facilities, so bring everything you need.
5. Loch Lomond, Scotland
Source: Visit Scotland
Description: Loch Lomond is one of Scotland's largest lakes, surrounded by mountains and dotted with islands. The lake's shores offer numerous picturesque spots for picnics with panoramic views.
What Makes It Special: Families can enjoy various activities, including boat trips, water sports, and aquarium visits. There are also several family-friendly walking paths.
Facilities: Several picnic areas with tables, shops, and restaurants are nearby.
6. Studland Bay, Dorset, England
Source: National Trust
Description: Studland Bay is known for its golden beaches, heathland, and dunes. The soft sand and gentle waves make it an ideal spot for a beach picnic.
What Makes It Special: The bay is great for building sandcastles, and there's a nature reserve where kids can learn about the local wildlife. During summer, there are beach games and activities organized by the National Trust.
Facilities: There are toilets, a café, and a shop available.
7. Tarn Hows, Lake District, England
Source: National Trust
Description: Tarn Hows is a picturesque spot in the Lake District, with a beautiful tarn surrounded by woodland. The calm waters and surrounding woodlands create a peaceful setting for picnics.
What Makes It Special: The area is accessible and family-friendly, with easy walking paths around the tarn. Children will love feeding the ducks and playing hide and seek among the trees.
Facilities: There are toilets and car parking available.
8. Portstewart Strand, County Londonderry, Northern Ireland
Source: National Trust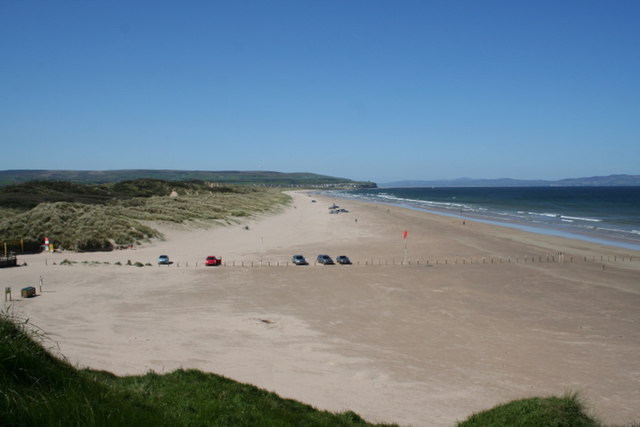 Description: Portstewart Strand is a long sandy beach on the North Coast of Northern Ireland. The expansive beach is perfect for spreading a picnic blanket and enjoying the sea breeze.
What Makes It Special: The beach is perfect for family fun with activities like sandcastle building, kite flying, and beach games. There are also nearby sand dunes for exploring.
Facilities: There are toilets, a shop, and a café available.
9. Barafundle Bay, Pembrokeshire, Wales
Source: Visit Wales
Description: Barafundle Bay is a secluded beach on the Pembrokeshire coast, surrounded by cliffs and dunes. The crystal-clear waters and golden sands make it a heavenly spot for picnics.
What Makes It Special: The secluded nature of the bay makes it feel like a private beach, perfect for family games and paddling in the sea. The surrounding cliffs are great for adventurous explorers.
Facilities: There are no facilities at the beach but toilets and a café at the nearby Stackpole Quay.
10. The Hermitage, Perthshire, Scotland
Source: National Trust for Scotland
Description: The Hermitage is a woodland walk in Perthshire, with towering trees, waterfalls, and the River Braan running through it. The sound of the water and the shelter of the trees make it a perfect picnic spot.
What Makes It Special: The area is great for family walks, and children will be in awe of Ossian's Hall and the Black Linn waterfall. There are also plenty of spots for playing and exploring along the river.
Facilities: There are toilets and car parking available.
These ten scenic picnic spots in the UK offer a mix of well-known and hidden gem locations, each with unique charm and natural beauty. They are perfect for family fun, with various activities and experiences to create lasting memories. Pack your picnic basket, and let the adventure begin!
The Essentials for a Perfect Picnic
A perfect picnic is like a symphony – every element is crucial in creating a harmonious experience. From the comfort of a soft picnic blanket to the delectable picnic food that tickles your taste buds, let's explore the essentials you need to pack for your picnic adventure.
Picnic Blankets
The foundation of any picnic is the blanket. It's where you'll be sitting, eating, and lounging, so it's important to choose wisely:
Material: Look for a picnic rug with a soft upper layer for comfort and a waterproof/sandproof bottom layer to keep you dry. Fleece is a great, budget-friendly option for picnic blankets.
Size: Consider the number of people and the space you'll need. A larger blanket offers more space but is bulkier to carry.
Portability: Opt for a lightweight blanket with a handle or strap for easy carrying.
Picnic Baskets
Ah, the classic picnic hamper! It's not just a container; it's a style statement:
Material: Wicker picnic baskets are traditional and stylish but can be pricey. Insulated fabric baskets are a more affordable and practical alternative.
Compartments: Look for a basket with compartments or pockets to keep items organized. The best luxury picnic hampers will have a cooler bag, and bottle holder and come with added extras like a bottle opener, cheese board and real glasses!
Size & Weight: Choose a size that fits your needs but is still easy to carry, especially if you have to walk a distance to your picnic spot.
Picnic Food
The star of the show! Picnic food should be tasty, easy to eat, and simple to prepare:
Sandwiches & Wraps: These are picnic classics. Prepare them with a variety of fillings to suit different tastes.
Fruits & Snacks: Pack a selection of fresh fruits and easy snacks like cheese, crackers, and nuts.
Drinks: Bring a selection of drinks, including water, juice, and perhaps a bottle of wine for the adults. We bring our drinks in reusable water bottles and a thermos flask.
Cooler: If you're bringing perishable items, use an electric cool box to keep them fresh. If you don't have any plugs on the go, then consider a coolbag backpack instead!
Picnic Tables
While not essential, a picnic table can add comfort to your picnic, especially if you're in a park that has them available:
Portable Tables: If you prefer to bring your own, there are lightweight, foldable picnic tables that are easy to carry.
Tablecloth: Whether using a public picnic table or your own, a tablecloth can add style and hygiene.
Seating: If using a picnic table, don't forget portable picnic chairs or cushions for seating.
Eco-Friendly Options
In the spirit of enjoying nature, it's important to be kind to the environment:
Reusable Utensils: Pack reusable plates, cups, and cutlery instead of disposable ones – Bamboo picnic sets are a perfect eco choice.
Eco-Friendly Picnic Set: Consider investing in an eco-friendly picnic set made from sustainable materials.
Waste Management: Bring bags for trash and recycling to leave no trace behind.
And there you have it! With these essentials, you're well on your way to having the perfect picnic. Remember, it's all about comfort, convenience, and savouring the delightful moments of being in the great outdoors.
Planning Your Picnic
Planning is key to ensuring that your picnic is enjoyable and hassle-free. Here are some tips on how to plan the perfect picnic:
Check the Weather
Before you set out, it's crucial to check the weather forecast for your picnic day. Look for a day with pleasant temperatures and low chances of rain. If the weather seems unpredictable, it's wise to have a backup indoor location or be prepared with umbrellas and raincoats.
Choose the Right Picnic Location
Select a location that suits the interests and needs of your group. Consider the amenities available, such as picnic tables, restrooms, and playgrounds. Also, consider the scenery you want, whether it's a beach, park, or woodland area. (we gave you plenty of choices of picnic spots above).
Pack the Right Food
Think fresh, simple, and easy to eat regarding picnic food. Here are some ideas:
Sandwiches and Wraps: Pre-make sandwiches or wraps with various fillings.
Fresh Fruits: Pack fruits like apples, grapes, and berries.
Snacks: Bring along snacks like cheese, crackers, and nuts.
Drinks: Don't forget to bring plenty of water and maybe some juice or soda.
Cooler: Use a cooler to keep perishables fresh.
Bring Essential Gear
Make sure you pack all the essentials:
Picnic Blanket: A comfortable and waterproof blanket is a must.
Picnic Basket: To carry your food and utensils.
Utensils and Napkins: Don't forget the basics – plates, cups, forks, knives, and napkins.
Trash Bags: Bring bags for trash and recycling.
Sunscreen and Bug Spray: Protect yourself from the sun and insects.
Plan Activities
Think about the activities you want to do during your picnic. Bring along a frisbee, ball, or kite for some active fun. Bring a book or play cards if you prefer a more relaxed picnic.
Leave No Trace
Respecting nature and leaving the picnic spot as you found it is important. Clean up all your trash, and do not leave anything behind. If you bring any food that could harm wildlife, ensure it's securely packed away.
Have a Flexible Plan
Sometimes, despite all the planning, things don't go as expected. Be flexible and ready to adapt. If it starts to rain, you can have a car picnic. If you forget something, improvise!
Remember, the goal of a picnic is to have fun and enjoy the company of family and friends in the beauty of the outdoors. Happy picnicking!
Making Your Picnic Memorable
A family picnic is not just about the food and the location; it's about creating memories that will last a lifetime. Here are some budget-friendly activities that can add a sprinkle of magic to your picnic experience:
Play Games
Bring along some classic picnic games that are fun for all ages. Some favourites include:
Frisbee: Easy to pack and always a hit.
Scavenger Hunt: Create a list of items for kids to find around the picnic area.
Card Games: Bring a deck of cards for endless possibilities. As a family, we LOVE UNO and take that game everywhere!
Beach Ball or Football: Great for burning off some energy.
Click here for more picnic game ideas.
Capture the Moments
Don't forget to bring a camera or use your smartphone to capture the special moments.
Photography: Take pictures of the scenery, the food, and the people – for fun, and instant memories why not use a polaroid camera.
Selfies: Capture fun selfies with everyone.
Nature Shots: If you're in a scenic spot, take some nature photos as keepsakes.
Explore Nearby Attractions
If your picnic spot is near other attractions, take some time to explore.
Nature Trails: If you're in a park or natural area, explore the trails.
Historical Sites: Visit any nearby historical sites or landmarks.
Local Events: Check if any local events or festivals are happening nearby.
Share Stories
Gather around and share stories. If you're picnicking in the evening, it could be personal, fictional, or even ghost stories.
Relax and Take in the Scenery
Sometimes the best activity is simply relaxing and immersing yourself in the surroundings. Lay back on your blanket, watch the clouds, and listen to the sounds of nature.
Conclusion
Picnics are a timeless tradition that combines the simple pleasures of good food, great company, and the beauty of the outdoors. Whether you're looking for a romantic getaway, a family outing, or some alone time, the UK is dotted with perfect picnic spots waiting to be discovered.
We encourage you to explore these beautiful UK picnic spots and make your own memories. Don't forget to pack your sense of adventure and picnic basket!
We'd love to hear about your picnic experiences! Share your favourite picnic spots and memories in the comments below. And if you're looking for the perfect picnic gear, don't forget to check out our range of picnic baskets, blankets, and more on www.lifeisapicnic.co.uk. Happy picnicking!
Latest posts by Alexandra
(see all)