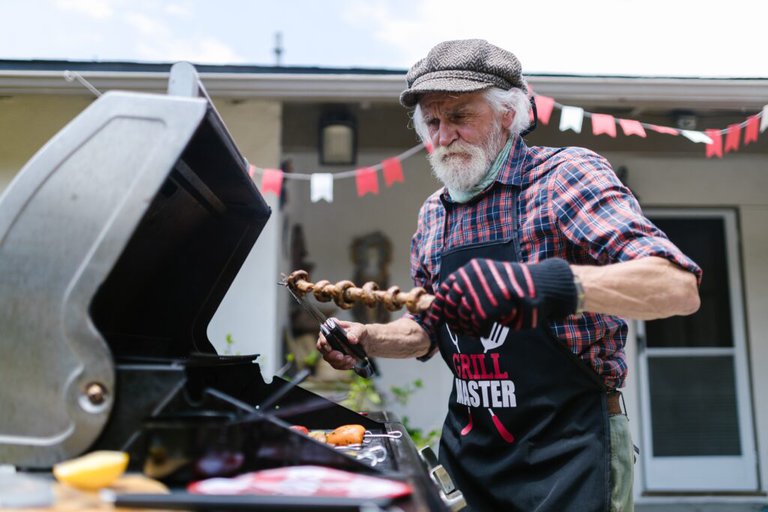 Grill Like a Pro With Our Top Barbecue Hints & Tips
As the sun shines brighter and the days grow longer, the magic of summer BBQs fills the air. There's something truly special about gathering with family and friends around a grill, the air filled with the tantalising aroma of sizzling food, and the sound of laughter echoing through the warm summer air. It's a time when BBQ tips and tricks become the currency of conversation, as everyone seeks to master the art of the grill.
BBQs are more than just a way to cook food; they're a time-honoured tradition that brings people together. They're about the joy of cooking in the great outdoors, the thrill of the grill, and the shared experience of communal dining. Whether it's a family gathering, a friendly get-together, or a neighbourhood block party, BBQs celebrate good food, company, and good times.
In this article, I, Alexandra, your party planning and picnic queen, aim to provide an easy-to-follow guide to everything you need to plan and execute the perfect summer BBQ. My family and I love a good grill out, whether on our Weber gas BBQ or roasting marshmallows to make s'mores over our fire pit. My hubby, Scott, is the grilling king, and I love creating fun recipes for him. I wish he loved to cook as much in the kitchen, but we can't have it all!
From choosing the proper BBQ and essential tools to mastering the art of grilling and serving mouth-watering recipes, we've got you covered. I'll also share tips on health and safety, cleaning and maintenance, and even how to throw a BBQ party that sizzles.
So, whether you're a seasoned grill master or a BBQ beginner, we invite you to join us on this journey. Let's make this summer one to remember, filled with the joys of BBQs and the warmth of shared memories. Let's grill like a pro!
Gas BBQ or Charcoal BBQ – Which BBQ Grill Is Best?
Regarding BBQs, one of the first decisions you'll need is whether to go for a gas or a charcoal grill. Both have unique advantages and offer different cooking experiences, so let's dive in and explore these two options.
BBQ enthusiasts often praise Charcoal BBQs for the distinct, smoky flavour they impart to the food. There's something quite primal and satisfying about lighting the charcoal, seeing the flames flicker, and hearing the sizzle as you place your food on the grill. It's a more hands-on and traditional grilling experience that many people love.
One of my personal favourites when it comes to charcoal BBQs is the classic Weber Kettle Grill. It's a tried and true choice known for its simplicity, versatility, and reliability; plus, Weber makes long-lasting barbecues. While it may not have all the modern accessories, it delivers high-standard grilling results. The type of charcoal used can also significantly impact the taste of your food. I recommend high-quality lump charcoal, like Big K Restaurant Grade Briquettes, for a smooth, mild flavour.
On the other hand, Gas BBQs offer convenience and ease of use. With a gas grill, you can start cooking almost immediately without waiting for the charcoal to heat up. They also offer easy temperature control, which is excellent for cooking various foods.
A great gas BBQ I've had the pleasure of using is the CosmoGrill Deluxe 4+1 Gas Burner Grill BBQ Barbecue. It's a fantastic option with a generous cooking area and an additional side burner. It heats up quickly, offers consistent cooking temperatures, and is easy to clean, making it an excellent choice for those who value convenience and functionality.
When choosing between gas and charcoal, consider what you value most in your BBQ experience. A charcoal BBQ might suit you if you love the process and the smoky flavour. You might prefer a gas BBQ if convenience and control are more your speed. And if you can't choose, read this article on Hybrid BBQs – the best of all worlds, in my opinion!
Remember, the best BBQ is the one that you'll enjoy using the most. So choose the one that suits your style, gather your family and friends, and let the BBQ season begin!
BBQ Tools and Accessories
Once you've chosen your ideal BBQ, it's time to equip yourself with the right tools and barbeque accessories (these will help you follow our BBQ tips and tricks later in the article). These can significantly enhance your grilling experience, making it more accessible, efficient, and enjoyable.
First and foremost, a good set of BBQ tools is essential. This usually includes a spatula, tongs, and a grill brush. The spatula and tongs should have long handles to keep your hands safe from the heat, and the grill brush should be sturdy enough to clean off any stubborn residue. I recommend the POLIGO 29pcs BBQ Accessories Stainless Steel BBQ Grill Tools Set. It's a comprehensive set including corn holders and a digital meat thermometer at a brilliant price point.
Speaking of thermometers for meat, they're a must-have for any serious griller. They take the guesswork out of grilling, ensuring your food is always cooked to the perfect temperature. The ThermoPro TP08S Wireless Digital Meat Thermometer is an excellent choice with its dual probe for food and BBQ, 300 feet remote range, and preset temperature settings for nine types of meat.
Grill baskets are another handy accessory, especially for grilling smaller items like vegetables or seafood that might otherwise fall through the grill grates. The ACMETOP BBQ Grill Basket is a durable and easy-to-clean option I've enjoyed using. For even more cooking fun, get some rolling BBQ baskets; these can be used to grill several foods simultaneously to mix flavours, such as chicken, onion, garlic, and apples.
A Barbecue rotisserie kit can be a game-changer for those who love a good BBQ chicken or roast. It allows for even cooking and gives your meat a beautiful, golden-brown finish. The Onlyfire Universal Stainless Steel Rotisserie Grill Kit is a versatile option that fits most grills.
Lastly, don't forget about maintenance of your BBQ. A high-quality grill cover, like the Grillman Premium BBQ Grill Cover, can protect your grill from the elements and extend its lifespan. And for cleaning, a good grill brush and a set of cleaning wipes can go a long way.
Remember, the right tools and accessories can elevate your BBQ experience from good to great. So equip yourself with these essentials and prepare to grill like a pro!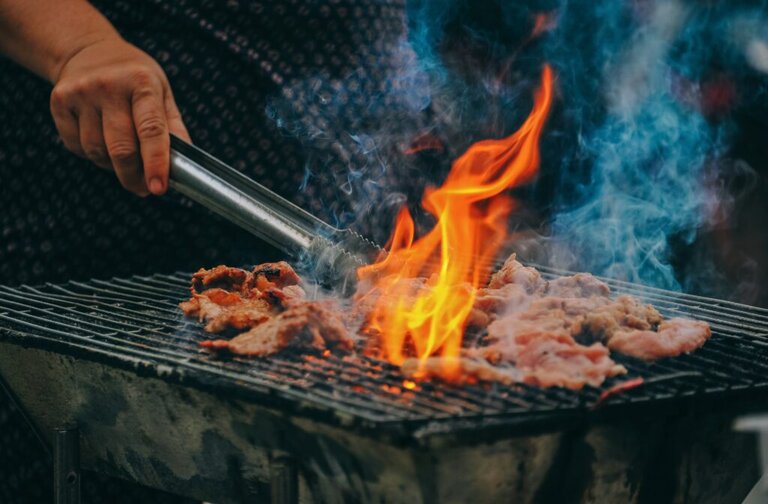 BBQ Recipes to Savour
As a BBQ enthusiast, I've tried and tested many recipes, and I've found that the best ones are simple, flavourful, and cater to various dietary preferences. Here are a few of my favourites that have been a hit at my family BBQs:
Classic British Burger: This is a staple at any BBQ. The beauty of this recipe is in its simplicity – quality beef mince, a little seasoning, and you're good to go. I love to serve these with various toppings so everyone can customise their burger.
Grilled Halloumi & Peach Salad with Homemade Lemon Pesto: This is a fantastic option for our vegetarian friends. The combination of the salty halloumi and sweet peaches is divine, and the homemade lemon pesto adds a fresh and zesty touch.
BBQ Tandoori Chicken: This recipe brings some international flair to your BBQ. The chicken is marinated in a mixture of yoghurt and spices, resulting in a tender and flavourful dish that's sure to impress.
BBQ Sauce and Marinades
The secret to a great BBQ often lies in the sauce and marinades. They can transform a simple piece of meat into a flavourful delight. Here are some of my homemade favourites and store-bought recommendations:
Homemade BBQ Sauce: I love this Instant Pot Peach Habanero Ribs recipe. The sauce blends sweet peaches, spicy habanero peppers, and onion, creating a tangy sauce perfect for ribs.
Store-Bought BBQ Sauce: A good quality store-bought sauce can do the trick if you're short on time. I recommend the Newman's Own Sticky Barbecue Marinade Sauce. It has a great balance of sweet and tangy flavours and works well with various meats.
Marinades: I often turn to Nando's Peri-Peri Marinade for a quick and easy marinade. It adds a spicy kick to chicken and is always a crowd-pleaser at my BBQs.
Remember, the key to a successful BBQ is to have fun and experiment with different flavours. Happy grilling!
Mastering the Grill – Tips and Tricks
As the queen of party planning and picnic, I've always admired my husband, Scott Watson, the grilling king. His ability to manage the grill, whether it's gas or charcoal, is nothing short of impressive. So, I asked him to share his top BBQ tips and tricks for mastering the grill. Here's what he had to say:
Control the Heat: "Managing heat is the key to a good BBQ. For a gas grill, it's as simple as adjusting the knobs. But you'll need to arrange your coals to create a heat gradient for a charcoal grill. Put most of your coals on one side for high heat and fewer on the other for low heat."
Preheat the grill: "Always preheat your grill 15-20 minutes before you start cooking to ensure it reaches the right temperature and kills any bacteria."
Know When Your Meat is Done: "Invest in a good meat thermometer. It takes the guesswork out of knowing when your meat is done. Remember, you can always put undercooked meat back on the grill, but you can't undo overcooked meat."
Rest Your Meat: "After grilling, let your meat rest for a few minutes before serving. This allows the juices to redistribute throughout the meat, making it more tender and juicy."
BBQ Tips and Tricks For Beginners
For those who are new to the BBQ scene, Scott has some basic BBQ tips and tricks to get you started:
Start with a Gas Grill: "If you're new to grilling, I'd recommend starting with a gas grill. They're easier to control and require less cleanup. Once you're comfortable, you can try your hand at a charcoal grill."
Keep It Clean: "Always clean your grill after each use. It prevents build-up and extends the life of your grill."
Safety First: "Never leave your grill unattended, and keep a spray bottle of water handy for flare-ups."
Practice Makes Perfect: "Don't be discouraged if your first few BBQs don't go as planned. Grilling is an art, and like any art, it takes practice. So keep at it!"
Remember, the goal of a BBQ is to have fun. So, don't stress too much about getting everything perfect. As long as you're enjoying yourself, you're doing it right!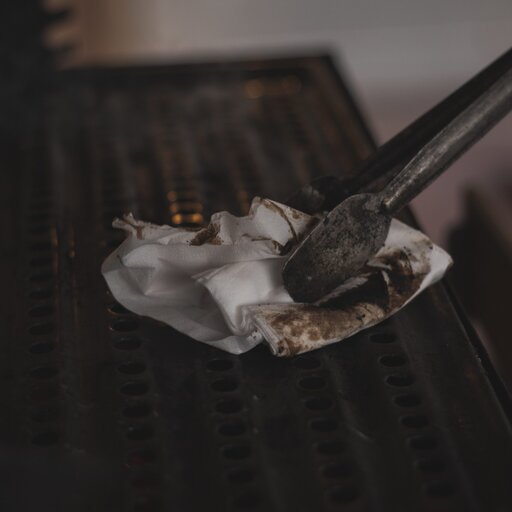 Cleaning and Maintenance of BBQ Grills
It's one thing to be an expert with our BBQ tips and tricks, but keeping your BBQ grill clean and well-maintained is crucial for its longevity and optimal performance. Whether you're using a gas or charcoal grill, regular cleaning can prevent the build-up of grease and food particles, which can cause flare-ups and affect the taste of your food.
One of the products I personally recommend for cleaning your BBQ grill is the BBQ Grill Cleaning Brush & Scraper. It's a heavy-duty tool with stainless steel bristles that effectively cleans all grills. The scraper is particularly useful for removing stubborn grime.
Another great product is the MAGIIN 4-Pack Grill Cleaning Brick. These pumice cleaning blocks are non-toxic and safe to use on most grills. They're excellent for removing rust and encrusted grease without scratching your grill.
Remember, after each use, allow your grill to cool down and use a brush to clean off the residue. Clean your grill a few times a year by removing and cleaning the grates with warm soapy water. Check the manufacturer's instructions for specific cleaning guidelines.
Premixed Cocktails for BBQ Parties
Adding a selection of premixed cocktails to your BBQ party can elevate the fun factor. They pair wonderfully with BBQ food and offer a refreshing respite from the heat.
One of my favourites is the Classic Margarita For A Crowd. It's not too sweet, refreshing, and perfect for a summer BBQ party. Plus, you can make a large batch ahead of time, so your guests can easily serve themselves.
Another fantastic option is the Summer Party Drink Flight, which includes a variety of flavours like mango nada, passion fruit mule, cucumber paloma, and pineapple hibiscus agua fresca. These colourful and zesty cocktails are sure to impress your guests.
Always drink responsibly and ensure non-alcoholic options are available for those who prefer them. Enjoy your BBQ party with these delightful cocktails, and make it a summer to remember!
Making Your BBQ Party Sizzle
Throwing a BBQ party is not just about following our BBQ tips and tricks and grilling the perfect steak or mixing a refreshing summer cocktail. It's about creating an atmosphere that makes guests feel relaxed, entertained, and eager to return to your next gathering. Here are some top tips to make your BBQ party fun and memorable:
Games: Keep your guests entertained with some classic outdoor games. Consider activities like cornhole, horseshoes, or a friendly water balloon fight. For the kids, consider a scavenger hunt or a game of tag.
Music: Create a playlist that suits the mood of your party. Music can set the tone for your event, whether upbeat summer hits, classic rock, or chill-out tunes.
Decoration: Set the scene with some festive decorations. String lights, lanterns, and colourful tablecloths can transform your backyard into a party paradise. Don't forget about themed decorations if you're hosting a themed BBQ!
Party Essentials: To make your party sizzle, consider some BBQ party essentials from Amazon.co.uk. The Kingfisher 2m Wooden Parasol will provide some much-needed shade on hot summer days, while the Bar-Be-Quick Instant Barbecue Stand is perfect for those who want to grill in style. And don't forget about the Lights4fun 50 Warm White LED Outdoor Battery Fairy Lights for that magical evening ambience.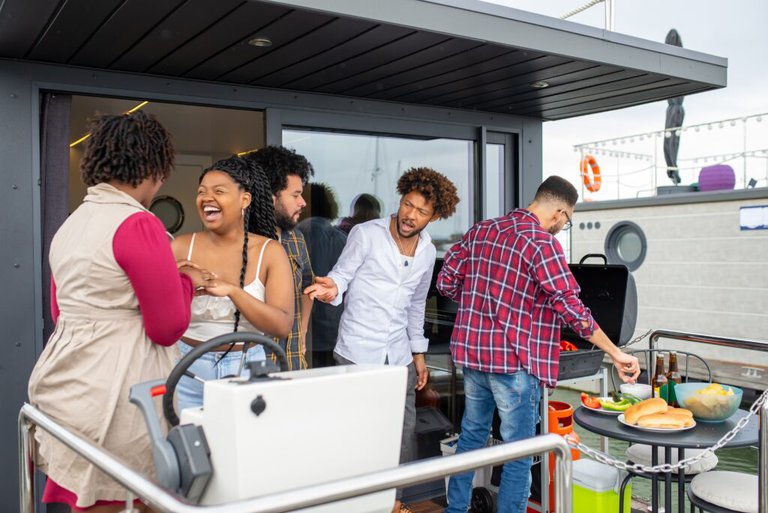 BBQ Etiquette
Every BBQ party has its own set of unwritten rules, but here are some universal BBQ etiquette tips to ensure everyone has a great time:
Serving and Eating BBQ Food: As a host, make sure there's a variety of food to cater to different dietary preferences. Don't be shy to dig in as a guest, but remember to leave some for others too!
Being a Good Guest: Always offer to bring something, whether it's a side dish, drinks, or even just some extra ice. Don't forget to help clean up after the party – your host will appreciate it!
So that's it for our BBQ tips and tricks – I hope this article helped (if so, please share it with friends and family). Summer BBQs are all about enjoying good food, good company, and good times. So fire up the grill, turn up the music, and make some lasting memories. With the right preparation and a few party essentials, your BBQ party will surely succeed.
We'd love to hear about your own BBQ tips and tricks! Share your stories in the comments below, and don't forget to check out the recommended products to make your next BBQ party the best one yet. Happy grilling!
Latest posts by Alexandra
(see all)