From Victorian Modesty to Modern Comfort: Discover the Evolution & Benefits of Your Perfect Beachside Cabana
Greetings, lovers of the seaside! Do you savour the sensation of warm sand sifting through your toes and the delightful, salty aroma of the ocean breeze? There's no experience quite like a day spent on the beach, is there?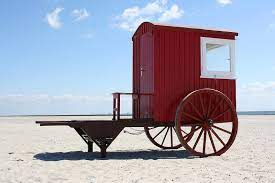 What Exactly is a Beach Tent?
Imagine this scenario: you're lounging on the beach, basking in the glorious sunshine, when suddenly, you crave a bit of respite from the heat. Or perhaps, you've brought along a picnic basket, and the seagulls are circling, eyeing up your sandwiches. Wouldn't it be splendid to have a portable haven at your fingertips? That's precisely the role a beach sun tent fulfils!
A beach tent is a lightweight, portable shelter explicitly designed for beach use. These ingenious gadgets provide a shaded, secure space to unwind, snack, snooze, or even change your swimming gear while soaking up the beach vibes.
Beach tents are available in various shapes and sizes, ranging from compact pop-up designs ideal for solo beachgoers to larger models suitable for families. They're typically constructed from robust, water-resistant materials, and many protect from harmful ultraviolet (UV) rays. Plus, they're a breeze to assemble, dismantle, and transport, making them a must-have item in your beach bag.
*Fun Fact: Did you know that beach tents date back to the Victorian era? In those days, they were utilised to preserve modesty while changing into bathing suits.
As it was known, the 'bathing machine' was a little wooden hut on wheels, complete with a 'modesty tunnel.' that led directly into the sea, allowing bathers to enter the water unseen; thankfully, today's beach tents are far more user-friendly!
The Various Types of a Beach Tent
The term "beach tent" might seem simple, but it's somewhat like a beach – there's more beneath the surface! When someone refers to a "beach tent," they could allude to a range of structures designed to cater to specific beachside requirements.
Pop-up beach tents, for instance, are a godsend for those who appreciate a straightforward, hassle-free setup. These tents spring into form with a simple flick, ready to provide immediate shelter.
Cabana tents, on the contrary, prioritise style and comfort. Boasting roomy interiors and often fitted with windows and extendable floor mats, these beach pavilions are perfect for those who appreciate luxury in their beach experience.
Canopy tents or sun canopies are the extroverts of the beach tent world. Their open sides and sizeable shaded area make them ideal for social gatherings, allowing everyone to enjoy the shade while still being part of the beachside merriment.
And then, there are the beach tents for babies and toddlers, but we'll delve into those shortly!
Fun Fact: The record for the quickest time to erect a two-person tent is 1 minute and 7 seconds, achieved by a team in Australia in 2015.
Now that's what we call immediate shelter!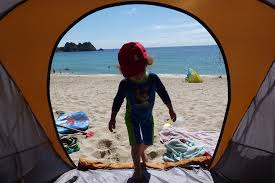 Top UV Protection Beach Tents
Here are some of the best UV protection tents available in the market:
A Closer Look at Baby Beach Tents
"Baby beach tent" might sound like the title of an adorable children's book, but it's a practical solution for parents planning a beach outing with their little ones. These tents shield your precious little one from the elements while offering a safe space for napping, playing, or changing nappies.
Beach tents for babys are typically compact and lightweight, often featuring pop-up designs for a swift and easy setup. Most importantly, they offer high UV protection for delicate baby skin. Some even come equipped with built-in pools for a fun and safe splash!
Moreover, these tents provide a barrier against wind, sand, and those ever-inquisitive seagulls, ensuring your baby can enjoy the beach comfortably and safely.
Fun Fact: Did you know a baby's skin is about 30% thinner than an adult's? This makes it extra sensitive to sunlight and heat, highlighting the importance of UV-protected baby beach tents.
Why Choose a Sun Tent?
Now, you might wonder, "Why opt for a sun tent?" as you learn about the story of beach tents.
While we enjoy soaking up the sun, protecting ourselves from harmful UV radiation is crucial. Overexposure to the sun can result in sunburn, heatstroke, and long-term skin damage.
A Sun Canopy, or UV beach tent with high UPF ratings, offers a solution. These tents are made with material that blocks or absorbs most UV rays, providing a sanctuary from the sun. They're ideal for anyone with sensitive skin, young children, or needing a sunbathing break.
And it's not just about safety. A sun tent also provides a fantastic, shady retreat where you can enjoy your beach day without squinting, sweating, or constantly reapplying sun cream.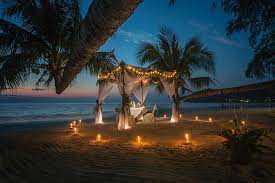 Fun Fact: UPF stands for Ultraviolet Protection Factor. It measures the amount of UV radiation penetrating a fabric and reaching the skin.
For example, a material with a UPF rating 50 allows only 1/50th of the sun's UV rays to pass through.
Wrapping Up Story of Beach Tents
We hope you enjoyed our blog post designed to help you learn about beach tents.
Whether it's a pop-up, cabana, canopy, or baby beach tent, these seaside companions are all about enhancing your beach experience. They provide shade, privacy, and protection, making your beach day safer and more enjoyable. So, the next time you prepare for a beach trip, why not consider including a beach tent?
Beach tents have evolved significantly from Victorian modesty tunnels and bathing carriages to modern UV protection. But regardless of the design or the purpose, the ultimate goal remains the same: to help you make the most of your day at the beach.
So, here's to sandy toes, salty hair, and perfectly pitched beach tents. We'll see you at the seaside!
Do you have a story about beach tents to share? Questions about your next beach tent purchase? Please leave a comment below or get in touch with us. We're all ears! And don't forget to bookmark our blog for more fun-filled, fact-packed beach content. Happy beaching, everyone!
Latest posts by Alexandra
(see all)
Last update on 2023-12-03 / Affiliate links / Images from Amazon Product Advertising API
This product presentation was made with AAWP plugin.